Say goodbye to that excess belly fat and get that beach-ready body with a tummy tuck procedure. Considering getting one? Check out these tummy tuck before and after pictures and videos to see what awaits you.
What Is A Tummy Tuck? 
Otherwise known as abdominoplasty, a tummy tuck is a cosmetic surgical procedure that improves the shape and appearance of the abdomen by removing excess skin, fat, and stretch marks that one can't normally remove by exercising alone.
In the procedure, the connective tissue in the abdomen (fascia) is usually tightened with sutures. The remaining skin is then repositioned to create a more toned look, boosting one's body image. 
Who Can Get A Tummy Tuck?
A tummy tuck is suitable for anyone in an optimal state of health, especially those who were once obese and still have excess fat deposits or loose skin around the belly. Women who have undergone several pregnancies may find the procedure useful for tightening their abdominal muscles and reducing stretch marks and loose skin.
How The Procedure Works
There are 2 types of abdominoplasty, the partial (mini) and the full. A partial tummy tuck is for women whose loose skin, lax muscles, and fat deposits are concentrated below the belly button, while a full tummy tuck rectifies sagging skin and loose muscles over the entire abdomen; the choice, ultimately, comes down to your needs and goals for the procedure.
Either way, both types are usually performed under a general anesthetic.
A partial abdominoplasty procedure goes like this:
The surgeon makes a large incision across the lower abdomen
The skin is then separated from the abdominal wall below the belly button
The excess fat and skin are then removed
All of the remaining skin will be then pulled together and stitched in place
A full procedure involves:
The surgeon will make a large incision across the lower abdomen (from one side of the hip to the other) right above the pubic area.
A second incision will separate the belly button from the surrounding tissue. 
The surgeon will separate the skin from the abdominal wall and realign the abdominal muscles.
The physician will also remove all excess fat and skin.
A new hole for the belly button will be cut and stitched back in place
The remaining skin will be pulled together and stitched in place
The entire procedure operation may last between 2 and 5 hours, with most people needing to stay in the hospital for a few nights.
You will probably be in pain after waking up from the general anesthetic. Painkilling medicine can be provided if needed.
You will leave the hospital with dressings and a pressure garment (corset) on your tummy or tummy-control pants. Someone will need to drive you home and stay with you for the following 24 hours.
Tummy Tuck Before And After Pictures & Videos
Check out what people from social media have to say about their tummy tuck experiences:
Jesse (@.j.e.s.s.e)
Last year, Jesse had managed to drop about 80 pounds off. However, the weight loss left her with a lot of loose skin, so she decided to get a tummy tuck to fix it. 
Although hesitant at first, the results were all worth it.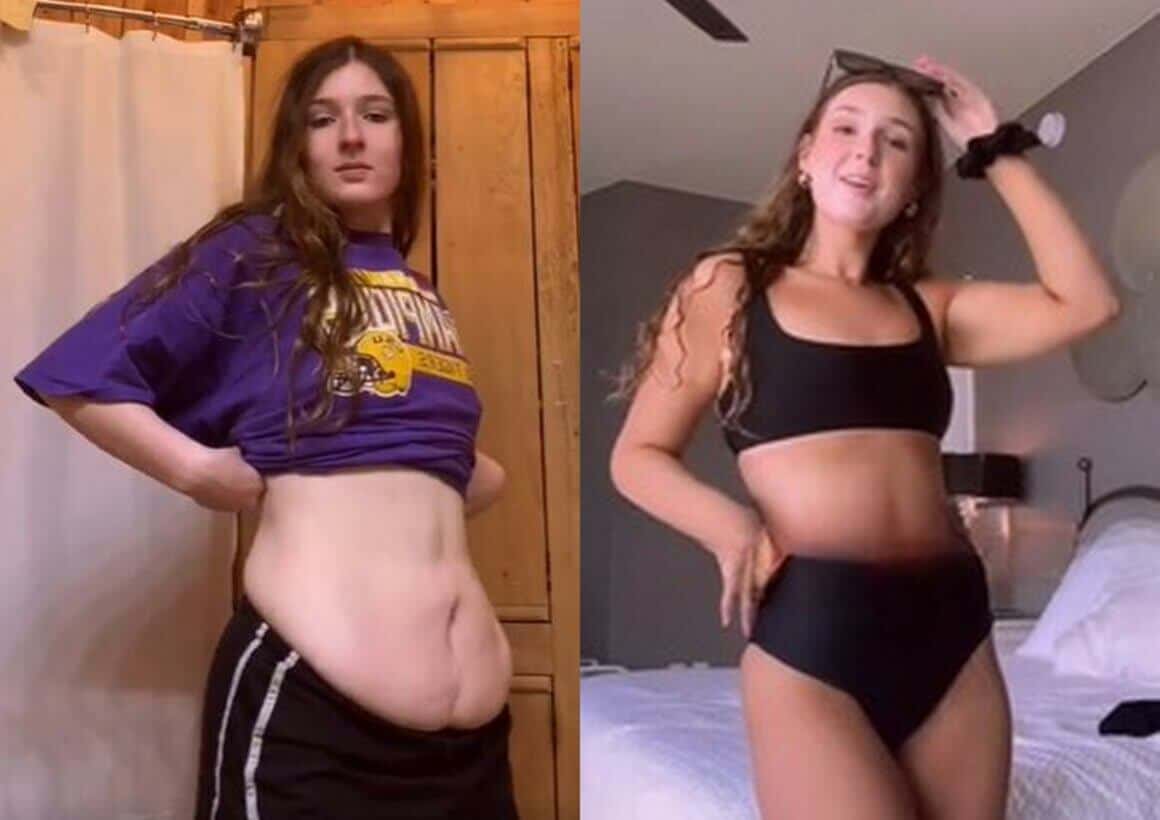 April Benavidez (@aprilabenavidez)
Tiktok momma April Benavidez has had five babies and repeatedly lost and gained 130 lbs of the same weight gain and loss, so she felt it was time for her to reclaim her old figure!
In the days following the procedure, we can see that the large amounts of skin in her upper abdomen have gradually decreased. Despite the [evident] scarring, she's still happy with the results and is optimistic that it'll be less apparent soon.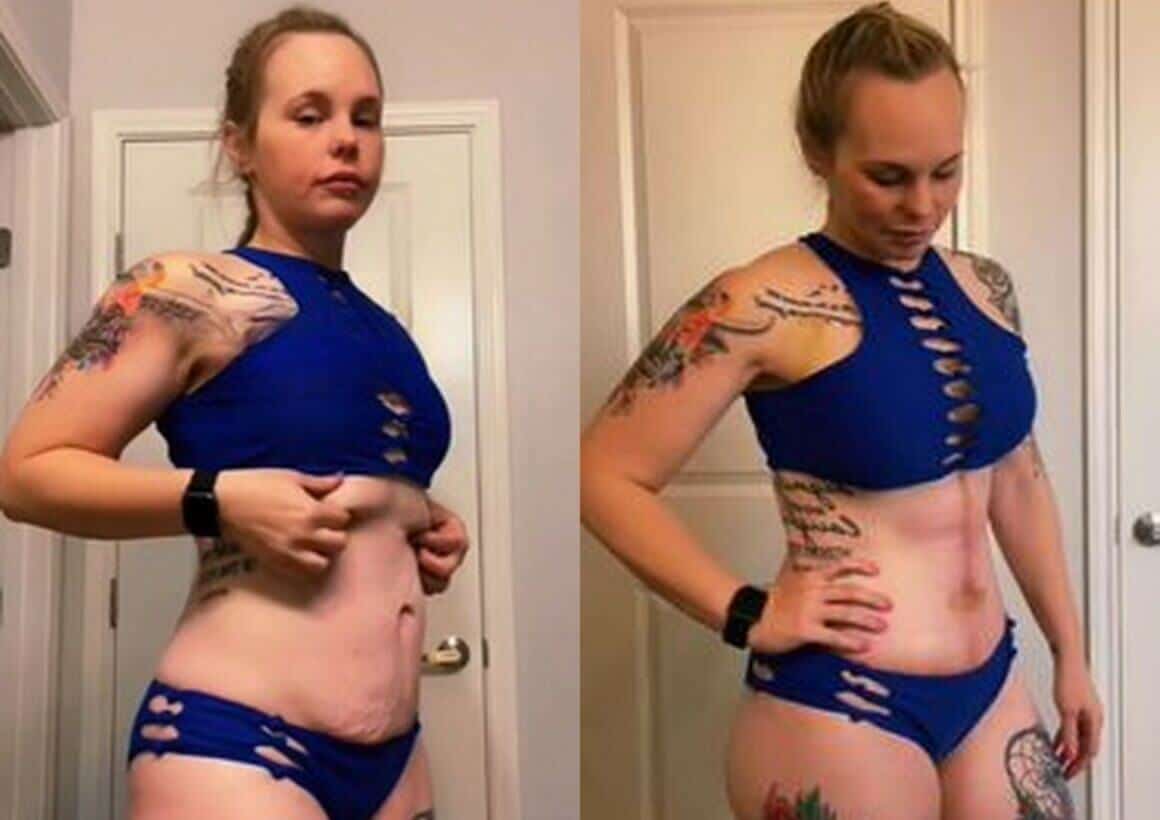 Jordan Jennifer (@jordanxjennifer)
Tiktok user Jordan Jennifer shared her tummy tuck progress 5 weeks after her procedure. She had lost 20 lbs of excess tissue, skin, and fat from her torso and hips.
At times, she experiences bloating due to strenuous physical activity. Note that it's a must to avoid heavy exercising or other activities even several weeks after the procedure.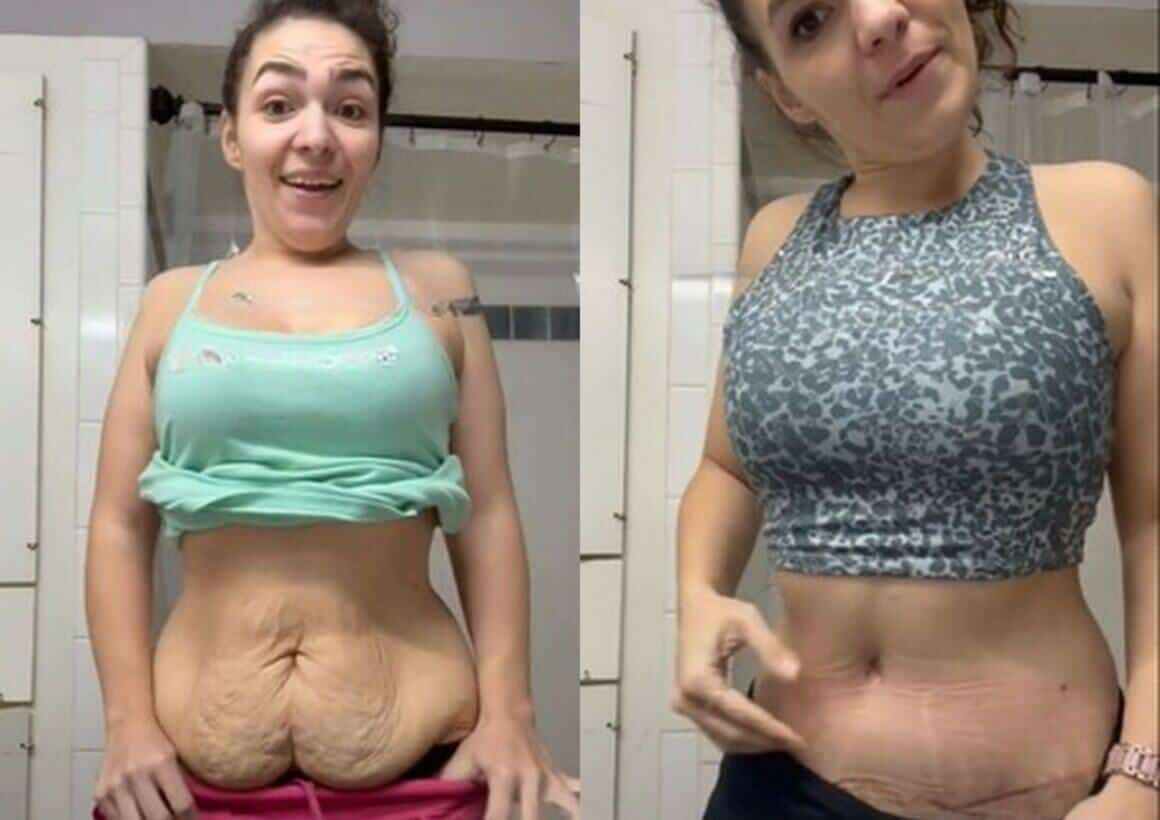 Katie Jade (@katierahh)
Katie considers getting a tummy tuck procedure one of the best decisions of her life. While the aftermath left her unable to move comfortably, she found it less painful than expected and had already stopped using the prescribed painkillers by the 3rd day.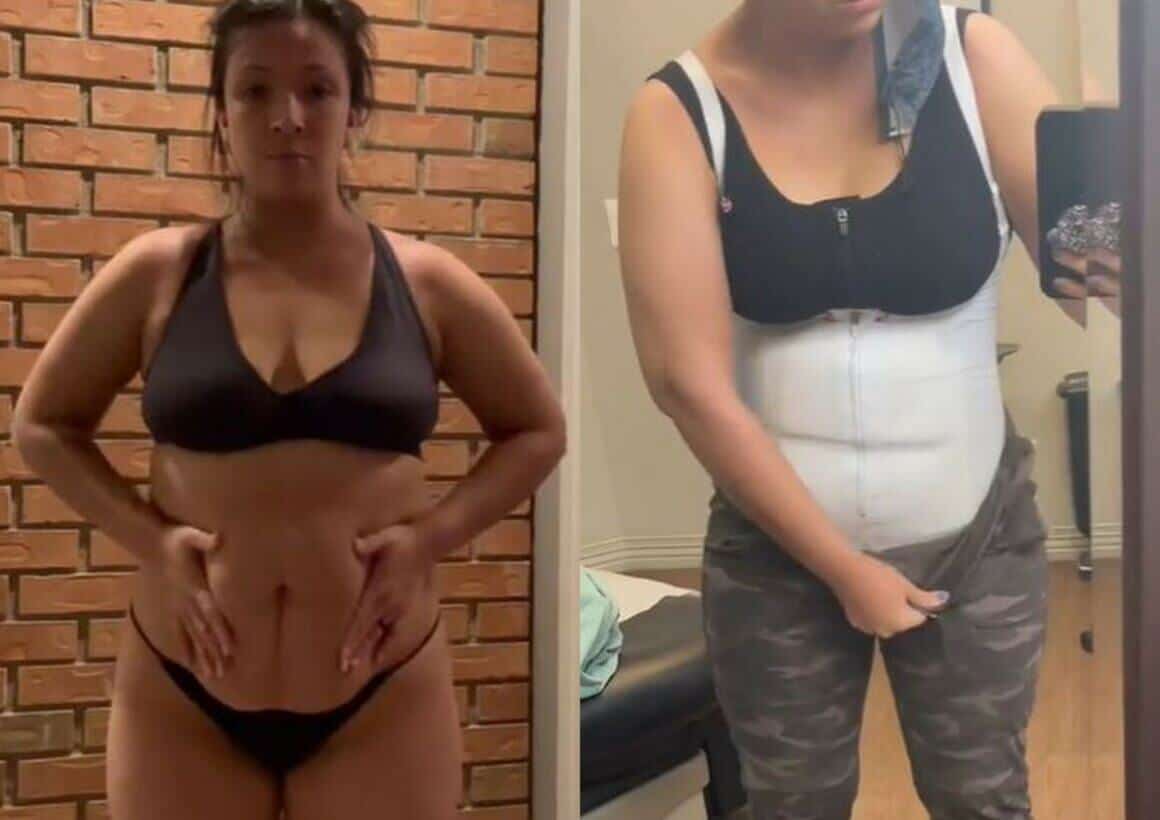 Risks & Side Effects
In the hours or days following surgery, one might experience the following:
Pain and swelling in the incision area
Numbness 
Bruising
Constant fatigue
Your doctor will prescribe pain medicine and tell you how to best handle the pain. You may be sore for several weeks or months.
As with any surgery, there are risks. Though rare, complications can include infection, bleeding under the skin flap, or blood clots. You may be more likely to have poor circulation, diabetes, heart, lung, or liver disease complications.
Like any other type of major surgery, getting a tummy tuck puts you at risk of bleeding, infections, and even an adverse reaction to anesthesia.
Slow/poor wound healing – In some cases, incision wounds tend to heal slowly or even begin to open. Antibiotics are normally given during and after the procedure to prevent the risk of infections due to open wounds.
Tissue damage – During the procedure, the fatty tissue within the skin in the abdominal area, can get damaged or even die. 
Changes in skin sensation – Repositioning the abdominal tissues could also affect the nerves in the same area and sometimes even in the upper thighs. 
Price 
According to the most recent statistics from the American Society of Plastic Surgeons, 
the average cost of a tummy tuck is $6,154 (excluding anesthesia, operating room facilities, or other related expenses)
Most insurance companies generally do not cover cosmetic surgery without a medical reason. However, Medicare has recently offered rebates for tummy tuck procedures under certain conditions —  patients seeking the rebate must have lost at least 5 BMI (body mass index) points, with their weight being stable for at least six (6) months.
Takeaway
A tummy tuck procedure helps flatten the abdomen by removing extra fat and skin and tightening muscles in your abdominal wall. That will greatly enhance your body image and give you more confidence. 
The recovery might be a slow process, so focus on following post-surgery care instructions as you move towards your goal. Consult your surgeon or nurse if you have questions or problems regarding the procedure. 
Disclaimer: this article does not constitute or replace medical advice. If you have an emergency or a serious medical question, please contact a medical professional or call 911 immediately. To see our full medical disclaimer, visit our Terms of Use page.
Related Articles
Lip Flip Before And After Pictures
Botox Before And After Pictures
Filler Under Eyes Before And After Pictures