People who work in big pharmaceutical companies tend to be highly satisfied with their field of work and earn salaries above the normal average. So if you're looking for a lucrative career in big pharma, check out this list of the best-paying jobs in major pharmaceuticals.
Why Get A Job In A Major Pharmaceuticals?
Simply put, to work in a pharmaceutical company is to play a part in upholding global healthcare standards. 
Pharmaceutical companies strive to promote medical progress by researching, developing, and distributing new medicines that improve patients' well-being and uphold the quality of healthcare all over the globe.
Pharmaceuticals have greatly contributed to the increase in life expectancy for men and women worldwide. Studies have shown that pharmaceutical advancements have accounted for 73% of the total increase in life expectancy between 2000 and 2009 across 30 countries. 
Treatments and vaccines manufactured by pharmaceuticals aim to combat and eradicate many diseases. Thanks to the success of vaccines, diseases like measles, rubella, polio, guinea worm, and lymphatic filariasis (elephantiasis) are considered almost eradicated. On the other hand, smallpox caused by the variola virus (VARV) and rinderpest from the rinderpest virus (RPV) are the only two diseases considered by the WHO to be completely eradicated., 
Pharmaceutical companies are a principal asset to the global economy and help the global economy by providing millions of jobs globally. In fact, it reached a record high in 2019, when the industry became worth an estimated $1.3 trillion.
 The biopharmaceutical industry in the US employs over 800,000 people across various areas, such as scientific research, technical support, and manufacturing.
The Best Paying Jobs In Pharmaceutical Companies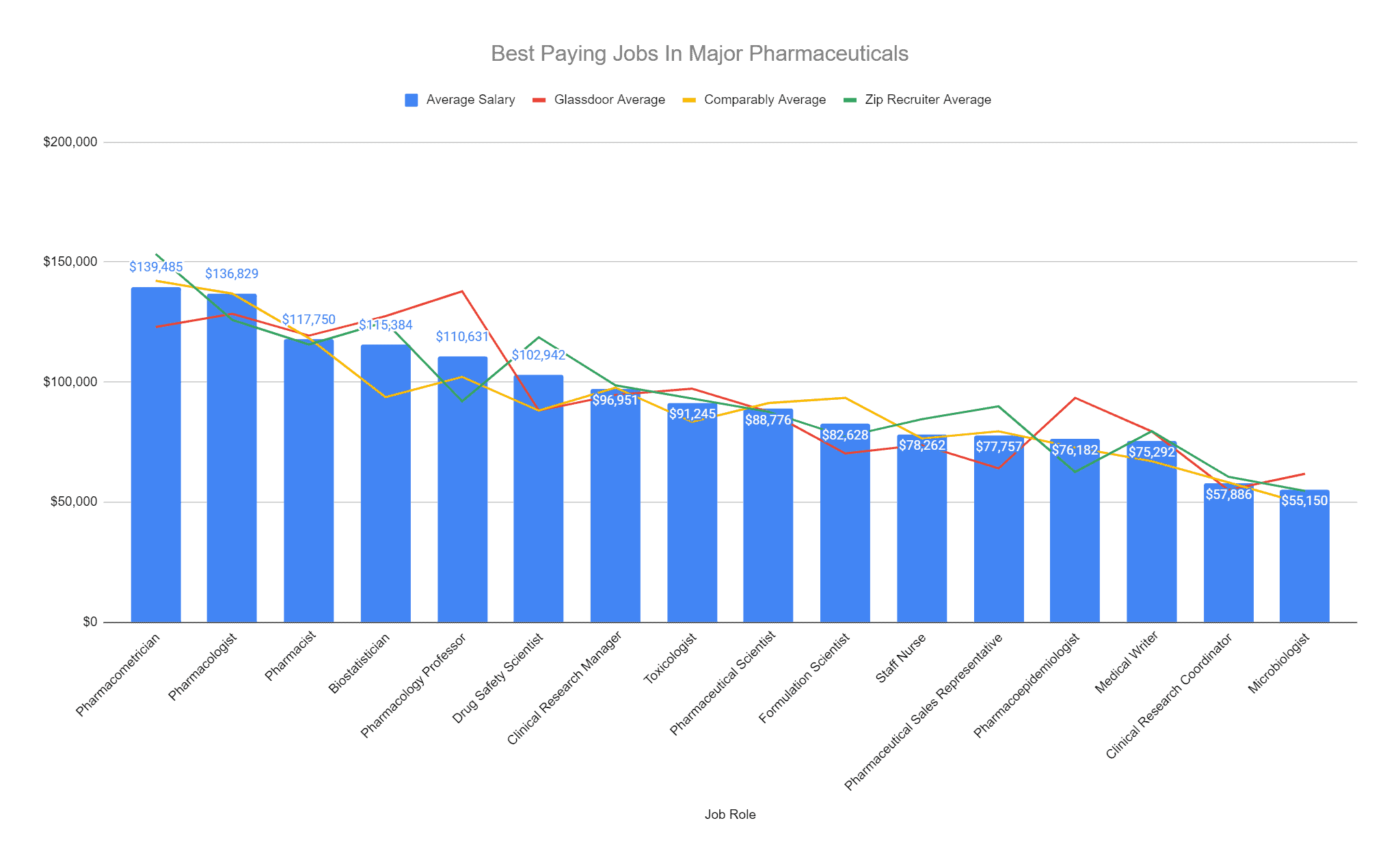 Here are some of the best high-paying jobs in the pharmaceutical industry. Their average annual salaries are based on an average of those given by Glassdoor, Comparably, and Zip Recruiter.
1. Pharmacometrician 
Glassdoor Average – $122,923
Comparably Average –  $142,200
Zip Recruiter Average – $153,333 
Overall Average Salary – $139,485
Pharmacometricians work on all parts of a drug's development and approval lifecycle to understand the interactions between xenobiotics and patients. They are also involved in extensive research about diseases and current treatments being applied to enhance product results.
Much study is needed to become a fully-fledged pharmacometrician — you would need a Ph.D. degree and proficiency in fundamental pharmacokinetics,  pharmacometrics principles, and pharmacokinetic-pharmacodynamic (PKPD) modeling.
2. Pharmacologist 
Glassdoor Average – $128,405
Comparably Average – $136,829
Zip Recruiter Average – $125,861
Overall Average Salary – $136,829
Pharmacologists study the effects of drugs and other chemical substances on cells, animals, humans, and the environment. They conduct experiments, analyze data using complex equipment and measuring systems, perform clinical trials, and make recommendations based on the results of their research to develop new products and manufacturing processes.
3. Pharmacist
Glassdoor Average – $119,339
Comparably Average – $118,280
Zip Recruiter Average – $115,630
Overall Average Salary – $117,750
Pharmacists are medication experts and help people with their medications. They prepare and dispense prescriptions, ensure medicines and doses are correct, prevent harmful drug interactions, and remind patients of their medications' proper and recommended use.
4. Biostatistician 
Glassdoor Average – $127,455
Comparably Average – $93,695
Zip Recruiter Average – $125,001
Overall Average Salary – $115,384
Biostatisticians apply mathematics, statistics, and data to biology to help answer pressing research questions in medicine, biology, and public health, such as whether a new drug works, what causes diseases, or how long a person with a certain illness will be likely to survive.
5. Pharmacology Professor 
Glassdoor Average – $137,782
Comparably Average – $102,141
Zip Recruiter Average – $91,969
Overall Average Salary – $110,631
Pharmacology professors are experienced professionals in research and medicine that will tackle precision-medicine era diagnostics, treatment selection, genetic counseling, public health interventions, and biomedical research. They also participate in developing drugs and testing their safety and effectiveness.
6. Drug Safety Scientist 
Glassdoor Average – $88,108
Comparably Average – $88,108
Zip Recruiter Average – $118,619
Overall Average Salary – $102,942
As the name suggests, drug safety scientists are responsible for identifying, reporting, and following up on the adverse effects of drugs. They perform interactivity studies between pharmaceuticals, observe study participants for any adverse effects, and ensure that released products are safe for the public. 
7. Clinical Research Manager
Glassdoor Average – $94,629
Comparably Average – $97,627
Zip Recruiter Average – $98,596
Overall Average Salary – $96,951
Clinical research managers are responsible for overseeing clinical trials from start to finish. They ensure that all studies follow ethical standards and scientific principles and coordinate with the research team to ensure that research activities progress smoothly and its stated goals are met. 
CRMs determine eligibility criteria for study participants based on their health status, demographics, and other factors. They also review research findings and prepare reports on their implications for clinical practice.
8. Toxicologist 
Glassdoor Average – $97,228
Comparably Average – $83,376
Zip Recruiter Average – $93,131
Overall Average Salary – $91,245
Toxicologists have a strong mastery of many scientific disciplines, such as biology and chemistry. They often work with chemicals and other substances to determine if they are toxic or harmful to humans, other living organisms, or the environment.
In pharmaceutical companies, toxicologists are responsible for laboratory management and execution of clinical and laboratory tests, which help diagnose diseases. They also teach about poisons and manage center operations.
9. Pharmaceutical Scientist
Glassdoor Average – $87,545
Comparably Average – $91,238
Zip Recruiter Average – $87,545
Overall Average Salary – $88,776
Pharmaceutical scientists are trained to discover, develop, test, and manufacture new medications. These scientists spend most of their time in a laboratory discovering and learning how different compounds interact with disease-causing cells and organisms. 
10. Formulation Scientist 
Glassdoor Average – $70,203
Comparably Average – $93,370
Zip Recruiter Average – $77,257
Overall Average Salary – $82,628
Formulation scientists spearhead forming and developing formulations and processes, scaling up manufacturing batches for clinical and pre-clinical trials, preparing product development reports, and supporting all necessary quality documentation and documentation for regulatory submissions. They are also responsible for conducting comprehensive testing and creating formulas for chemical products.
11. Staff Nurse 
Glassdoor Average – $73,818
Comparably Average – $76,467
Zip Recruiter Average – $84,500
Overall Average Salary – $78,262
Staff nurses provide high-quality care to employees of a company, residents of nursing homes, or patients in a hospital. They are responsible for initial patient assessment, monitoring patients' vital signs, and nurturing patients to recovery.
While they don't play a direct role in manufacturing drugs and medications, they must be present during clinical trials since they will attend to the participants during the trial and monitor their health.
12. Pharmaceutical Sales Representative 
Glassdoor Average – $63,977
Comparably Average – $79,433
Zip Recruiter Average – $89,862
Overall Average Salary – $77,757
Pharmaceutical sales representatives are tasked with informing clinicians, pharmacies, and other healthcare professionals about the potential medical benefits of their company's product. They frequently meet with healthcare professionals to describe the drug's chemistry, uses, possible side effects, and potential interactions.
13. Pharmacoepidemiologist 
Glassdoor Average – $93,376 
Comparably Average – $72,669
Zip Recruiter Average – $62,500
Overall Average Salary – $76,182
Pharmacoepidemiologists are healthcare researchers that work with pharmaceuticals and disease research to check how safe and effective drugs are in large human populations. They study risk factors and behavior to determine how medicine and healthcare can help eliminate and treat diseases.
14. Medical Writer
Glassdoor Average – $79,375
Comparably Average – $67,000
Zip Recruiter Average – $79,500
Overall Average Salary – $75,292
Medical writers prepare medical, scientific, and health documents, including research reports, consumer (patient) information, disease or drug-related educational, promotional literature, and regulatory documents/journals and content for healthcare websites, health-related magazines, or news outlets.
15. Clinical Research Coordinator 
Glassdoor Average – $55,020
Comparably Average – $58,138
Zip Recruiter Average – $60,500
Overall Average Salary – $57,886
Clinical research coordinators play an integral role in medical studies. They are in charge of planning and managing the study, enrollment, maintenance, training initiatives, and maintaining compliance with federal, state, and institutional regulations. CRCs also conduct clinical research, facilitate medical studies, and perform experiments.
16. Microbiologist 
Glassdoor Average – $61,756
Comparably Average – $49,091
Zip Recruiter Average – $54,602
Overall Average Salary – $55,150
Microbiologists study microorganisms such as bacteria, viruses, algae, fungi, and some types of parasites and understand how they interact with their environments. Microbiologists are essential in helping us to treat diseases. Many work as biomedical scientists in hospitals and laboratories: testing samples of body tissue, blood, and fluids to diagnose infections, monitor treatments, or track disease outbreaks. 
Some microbiologists work as clinical scientists in hospitals, universities, and medical school laboratories. In pharmaceutical companies, they help develop antibiotics and perform tests to find out which antibiotics will be most useful in stopping an infection.
How To Qualify For A Job In A Pharmaceutical Company?
The pharmaceutical industry is highly innovative and continuously progressive, and it's a field that requires important skills and expertise, owing to the industry's complex and crucial nature involving the manufacturing of drugs and treatments which aim to promote people's health and wellbeing. As the French phrase goes, "noblesse oblige" — To whom much is given, much is expected.
Higher education levels are often recommended for a career in this field. To qualify for a job in a pharmaceutical company, you need to be a graduate of any of the following college degrees:
Pharmacology – A pharmacology degree helps understand medications, their sources, their properties, their effects on the body, their therapeutic uses, and their interactions with other drugs in biological systems. It also focuses on formulating and managing clinical trials, regulating drugs, and the manufacture/marketing of pharmaceutical products.
This degree is the most likely to open the most doors and can give you an upper hand in working in the pharmaceutical industry, especially if you have a master's or doctorate degree.
Pharmacy –  Aside from pharmacology,  pharmacy is also an important degree for people who want to pursue a career in the various fields of the pharmaceutical industry. The program focuses on identifying, discovering, synthesizing, and formulating biologically active compounds for clinical use and understanding the different factors affecting drug behavior in the body.
Pharmacy, in general, is a challenging degree that involves a lot of analysis, mathematics, a rigorous study of chemistry, and memorization. 
Medicine – Medical degrees can most easily be sorted by degree level and specialization. Degree programs related to different areas of the medical field are available at the undergraduate and graduate levels, such as anesthesiology, radiology, emergency medicine, pathology, psychiatry, surgery, and medical science.
Applicants with medical degrees and certifications are primarily sought by pharmaceutical companies for research programs or to help out in clinical trials.
Chemistry – Chemistry explores elements and compounds' composition, structures, and properties of chemicals. Its majors earn an extensive multidisciplinary science education, a deeper understanding of higher mathematics, and a strong grounding in laboratory work.
A chemistry degree is highly-prized in the pharmaceutical industry, especially a higher-level degree (master's or doctorate). It's also an ideal bachelor's degree that can be an ideal stepping stone before transitioning into pharmacology.
Biology – Biology is the science behind living organisms, which includes the origin and history of animal and plant life and their characteristics, functions, processes, and habits. Biology majors develop a deep understanding of biological organization, which includes molecules, microbes, species, and ecosystems. 
Biology and pharmacology are linked to each other, the latter being a science that uses the basic concepts of biology and chemistry to determine how drugs affect the organism. Like chemistry, biology is also an ideal degree to take before transitioning to pharmacology. 
Nursing – Nurses play an undeniably important role in the healthcare industry by taking on a high level of responsibility for the treatment of patients; nurses are often the main point of contact, providing continuity of care and liaising with a range of other medical practitioners. 
Registered nurses can find many job opportunities in healthcare, especially in the pharmaceutical industry. They can work with patients in their homes to educate them on medication use or with sales and marketing teams while educating healthcare providers about treatment guidelines.
Certifications & Credentials
Aside from degrees, pharmaceutical companies require certain certifications.
Licensure in pharmacy – A pharmacist earns the professional designation after passing national and state pharmacy board exams. They also earn the suffix RPh (registered pharmacist) after their last names. 
Certified Pharamceducatal Industry Professional (CPIP) – This credential is a professional certification program covering product development through manufacturing for the pharmaceutical industry. It's conferred by the International Society for Pharmacoepidemiology.
Medical/nursing license – Healthcare professionals must undergo sufficient education, rigorous training, and certification before legally practicing.
Certified Sales Professional (CSP) – For those aiming to get a career in sales, the CSP® designation is for sales professionals seeking recognition for excellence in how well they handle accounts, deal with customers, and consistently achieve sales targets.
→ Pharmaceutical Jobs for Physicians
→ Remote Jobs at Kaiser Permanente
Takeaway
The best pharmaceutical companies to work for are crucial in healthcare by providing cures and lifesaving treatments. With the industry continually evolving, many incredibly rewarding career opportunities are made and play a part in fueling the global economy. 
To help find your niche in the pharma industry, be sure what post you want to pursue and get all the skills and qualifications for the position. With the vast number of job opportunities, you'll be bound to find one that suits your skills best.
Disclaimer: this article does not constitute or replace medical advice. If you have an emergency or a serious medical question, please contact a medical professional or call 911 immediately. To see our full medical disclaimer, visit our Terms of Use page.
Related Industries