Druggenius.com is reader-supported. We may earn a commission through products purchased using links on this page. Learn more about our editorial process here.
Metamucil is a supplement that works with your body's natural process to promote better digestive health, but given the heavy price tags, some might opt for a more affordable alternative. So today, we're offering some of our personal picks for the best alternative to Metamucil. 
5 Best Alternatives to Metamucil
What Is Metamucil?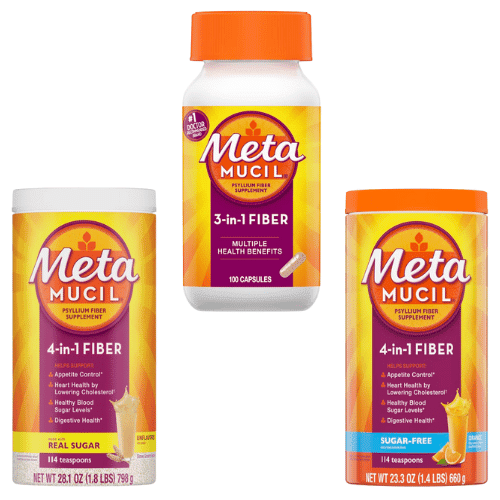 Metamucil is a leading fiber supplement brand that's formulated with plant-based psyllium husk, a non-digestible carbohydrate that can provide several health-related benefits. It was first introduced in 1934 by G. D. Searle & Company and was eventually acquired by Procter & Gamble in 1985. 
Metamucil is widely available in the following forms — juice powders, fiber thins, capsules, and gummies, depending on the person's preferences. These can be purchased over the counter without a prescription.
What Is Psyllium Fiber?
Psyllium fiber, the principal substance found in Metamucil, is a soluble, viscous, gel-forming fiber that comes from a shrub-like herb called Plantago ovata which is particularly common in India (but is found all over the world). 
Benefits Of Psyllium Fiber
Psyllium fiber is replete with important health benefits. For example, the soluble fiber in psyllium husks can help lower cholesterol, relieve constipation and diarrhea, and treat irritable bowel syndrome, hemorrhoids, and other intestinal problems. 
But perhaps psyllium is best known for its uses in digestive health. Many well-designed studies have shown that psyllium relieves constipation. When combined with water, the husk swells and produces more bulk, swelling and forming a gelatin-like mass that helps stimulate the intestines to contract and helps speed the passage of stool through the digestive tract.
Best of all, psyllium can help promote bowel regularity without increasing flatulence (farting). It can be used as a one-off to ease constipation or be added to diets to help promote regularity and overall digestive health.
For this reason, it's often used as a laxative in Asia, Europe, and North America.
Other health benefits include:
Promoting weight loss – Psyllium may help achieve weight loss since it absorbs liquid in your body and can help give a feeling of being full and lessen food cravings. One study even showed that psyllium husk supplement helped reduce belly fat among teenage boys who took it for six weeks.
Strengthens cardiovascular health – Various studies have shown that taking psyllium can greatly reduce total and LDL (bad) cholesterol levels, reducing heart disease risk. Another study found that psyllium supplementation significantly reduces SBP (Systolic blood pressure) and DBP (diastolic blood pressure) in hypertensive overweight subjects.
Aids people with diabetes – Psyllium has also been used to help regulate blood sugar levels in people with diabetes. One study found that adding psyllium to a traditional diet for persons with diabetes was beneficial and helped improve glycemic and lipid control in men with (type 2) diabetes and hypercholesterolemia. 
Alternatives To Metamucil – The List
While Metamucil's benefits have been proven and tested, others may find it a bit expensive or find its side effects overwhelming. Here are some psyllium-based alternative supplements which could yield the same health benefits and more: 
Supergut Fiber Mix is a proprietary resistant starch fiber blend that helps to positively influence many health functions — including weight, blood sugar control, and digestion. 
This resistant starch fiber blend was specially formulated to be slowly digested, so instead of spiking blood sugar, it nourishes good gut bacteria to benefit the microbiome and deliver metabolic benefits throughout the entire body. As a result, it manages weight and blood sugar levels, improves digestion and sleep, and relieves inflammation. 
Aside from Supergut's blend's properties, it's completely unflavored and unsweetened and contains only about 1g of net carbs and 15 calories. You can mix it easily with your favorite foods and drinks, and it suits any diet type or lifestyle (e.g., keto, vegan, etc.)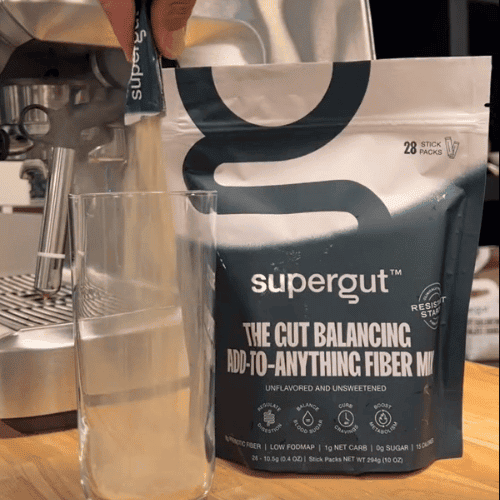 Ingredients
Supergut's ingredient blend sets it apart from Metamucil because it doesn't have added or hidden ingredients, solely limiting itself to the fiber blend. It's also free from sugars and other sweeteners.
Supergut's resistant starch fiber blend is made up of the following: 
Green banana powder-resistant starch
Soluble vegetable fiber (Maize)
Beta-glucan (Oats)
Solnul™ (Resistant potato starch).
Pros
Soy-free
Zero sugar
Fits all diet types (e.g., keto, vegan, etc.)
No artificial flavorings or additives
Fast & free shipping
Money-back guarantee
Easy to cancel.
Cons
May take consistent usage to see results
Flavor may not be pleasing to some consumers
ColonBroom Sugar-Free Fiber Supplement offers a safe and effective way to relieve constipation, reduce bloating, and lose weight, letting you get swept off your feet and seize the day, your way. 
The unique complex of essential ingredients in ColonBroom promotes detoxification by cleansing the gut and eliminating accumulated toxins, with psyllium husk as the main active ingredient. It relieves constipation, diarrhea, blood pressure, and weight loss, cleansing the body effectively. Not only that, but it also improves the mood and gives a much-needed energy boost.
To help meet its customers' health needs better, ColonBroom offers a quiz to help make up a personalized plan of recovery for consumers depending on the person's gender, stats, and health status. 
Ingredients
Like Metamucil, Colonbroom is sugar-free and uses stevia as a sweetener substitute, but Colonbroom has sea salt, which further aids digestion and has added benefits like skin rejuvenation and stress relief.
Psyllium husk powder
Crystallized lemon (citric acid, lemon oil, lemon juice)
Stevia leaf extract
Soluble fiber
Sea salt
Natural flavors 
Rice hulls
Pros
Sugar-free
Non-GMO
Gluten-free
Vegan
Secure checkout
Offers free shipping
Fast delivery
Diet guide included
Cons
Taste and texture might not be pleasing to others
Can result in a few side effects
Bonny's Fancy Prebiotic Powder helps relieve constipation easily and comfortably thanks to its all-natural prebiotic and adaptogenic fruit-flavored fibers that help you not just with your gut but overall health.
The powder blend combines psyllium fiber with inulin, a prebiotic type that is not digested in the stomach and stays in the bowel, and helps certain beneficial bacteria to grow. Once in the gut, they expand and create a gut-cleansing gel that bulks up the stool, picks up toxins, and eases bowel movements. 
All flavors contain the standard psyllium-inulin tandem, but each contains its own set of benefit-yielding ingredients and adaptogens like ashwagandha, lion's mane mushroom, and chlorella, among others, so each flavor offers its own special touch.
Ingredients
When it comes to ingredient variety, Bonny's Fiber Powder excels more than Metamucil. Aside from the standard psyllium, it's the only product in the selection that contains a prebiotic strain and an assortment of adaptogens:
All products contain: 
Psyllium husk
Inulin
Citric acid
Coconut sugar
Monk fruit extract 
Each flavor, however, aside from its corresponding flavorings, has its own set of specific adaptogens and other ingredients:
Strawberry Serenity
Mixed Ripe Berry
Amplified Apple Pie
Mango Passionfruit
Chocolate Coffee Swirl 
Maca root
Reishi mushroom
Spray-dried coffee
Matcha Magic
Chlorella
Lion's mane mushroom (Each 10g serving contains 12mg of caffeine)
Pros
Made in the USA
No artificial ingredients
Sustainable packaging
Plant-based
Contains about 17%+ of daily fiber per serving
Orders ship within 24 hours 
Fast shipping via FedEx and USPS
30-day money-back guarantee
No minimum commitment for a subscription
Easy cancellation
Cons
May take time and consistent usage for optimal results to occur 
Enjoy organic goodness with your reach with Naked Nutrition's Organic Fiber Supplement. 
A daily serving can already make a difference to your gut health, keep energy levels going, and control food cravings.
Organic Naked Fiber only has one ingredient: naturally dehydrated baobab pulp, a fiber-rich fruit from Southern Africa. The dehydrated pulp is separated from the fruit and is then ground down to powder, which in itself tastes sweet with citrusy undertones. Each serving already provides already 18% of a person's daily fiber needs.
The baobab fruit is also rich in prebiotics, which is extremely beneficial for your gut's probiotics to thrive. It also heightens immune system function and lets you absorb minerals better. 
Ingredients
Organic Naked Fiber only has one ingredient, but each serving is pure and unadulterated, guaranteed to deliver its benefits:
Pros
Only one ingredient – Pure baobab pulp powder
No additives, colors, or sweeteners
Vegan
Dairy-free
Soy-free
Gluten-free
Non-GMO
Free Shipping over $99.
Cons
Flavor can be overpowering
Tends to thicken quickly
Peak Performance Psyllium Husk is a plant-based soluble fiber that blends with water in the gut and can help reduce sugar spikes, help speed digestion, and offer metabolic benefits.
Each capsule contains psyllium husk extract that helps the gut flora microbiome to flourish and produce the short-chain fatty acids that nourish the cells around the colon. In effect, it can help relieve constipation, diarrhea, irritable bowel syndrome, hemorrhoids, and other intestinal problems, and even regulate blood sugar levels in people with diabetes.
Peak Performances' products' ingredients are sourced from clean, safe, and ethical environments. The products are manufactured under the highest quality GMP regulations and USA standards, employing strict quality control procedures to ensure maximum potency, quality, and purity. 
Ingredients
This particular supplement only features the main ingredient, serving it in its purest form in each capsule. 
Organic Plantago ovata psyllium husk
Pros
Vegan 
Allergen-free (E.g., soy, milk, egg, shellfish, corn, wheat, & peanuts)
Gluten-free 
No preservatives/artificial ingredients  
Third-party tested
30-day hassle-free money-back guarantee
Cons
May require consistent usage for results
The Importance Of Digestive Health
The digestive system plays a vital role in a person's overall health as it breaks down food into nutrients and distributes them throughout the body, which it uses for energy, growth, and cell repair. 
Gut microbiome balance is one of the most critical aspects of your gut health. How healthy your gut is can influence other aspects of your well-being, including mood, sleep quality, energy levels, and immune system. With the digestive system not functioning properly, one becomes prone to uncomfortable symptoms such as abdominal pain, bloating, indigestion, and more.
Here's where fiber comes into the picture: Fiber helps you better absorb vitamins and minerals from food. That means your brain and body can function better, and you have the energy to get more done. A fiber-rich diet also supports better gut motility and regular bowel habits, which is vital for your well-being and quality of life. 
Fiber also maintains blood sugar levels, increasing your satiety, meaning you won't get hungry as often, making it easier to maintain or reach your optimal weight.
Takeaway
Healthy digestion is key to healthy well-being – it ensures nutrient distribution, filters out toxins, and maintains a healthy weight. It also lowers the risk of experiencing diarrhea, vomiting, constipation, heartburn, bloating, flatulence, and indigestion. 
A high-fiber diet can help promote regular bowel movements and may protect against many digestive disorders. Fiber supplements like Metamucil, ColonBroom, Supergut, and the like can give additional fiber supplementation should diets lack. 
Having enough fiber helps ensure a healthy gut microbiome which is vital for your well-being and quality of life.
Disclaimer: this article does not constitute or replace medical advice. If you have an emergency or a serious medical question, please contact a medical professional or call 911 immediately. To see our full medical disclaimer, visit our Terms of Use page.