Druggenius.com is reader-supported. We may earn a commission through products purchased using links on this page. Learn more about our editorial process here.
CoQ10 is a naturally-occurring antioxidant that boosts physical performance and improves cognitive and cardiovascular function, so is vital to your overall well-being. In our round-up of the best CoQ10 brands, we take a look at supplements and creams and break down why these came in as our top-ranking products.
Coenzyme Q10 (CoQ10) is a nutrient found naturally in our bodies. It boosts mitochondrial function – the energy-producing structures in your body's cells – giving you more physical and mental energy. But age and some medical conditions can decrease the amount of CoQ10 we produce, so supplementation becomes necessary.
Best High-Absorption CoQ10 Supplements (Our Review)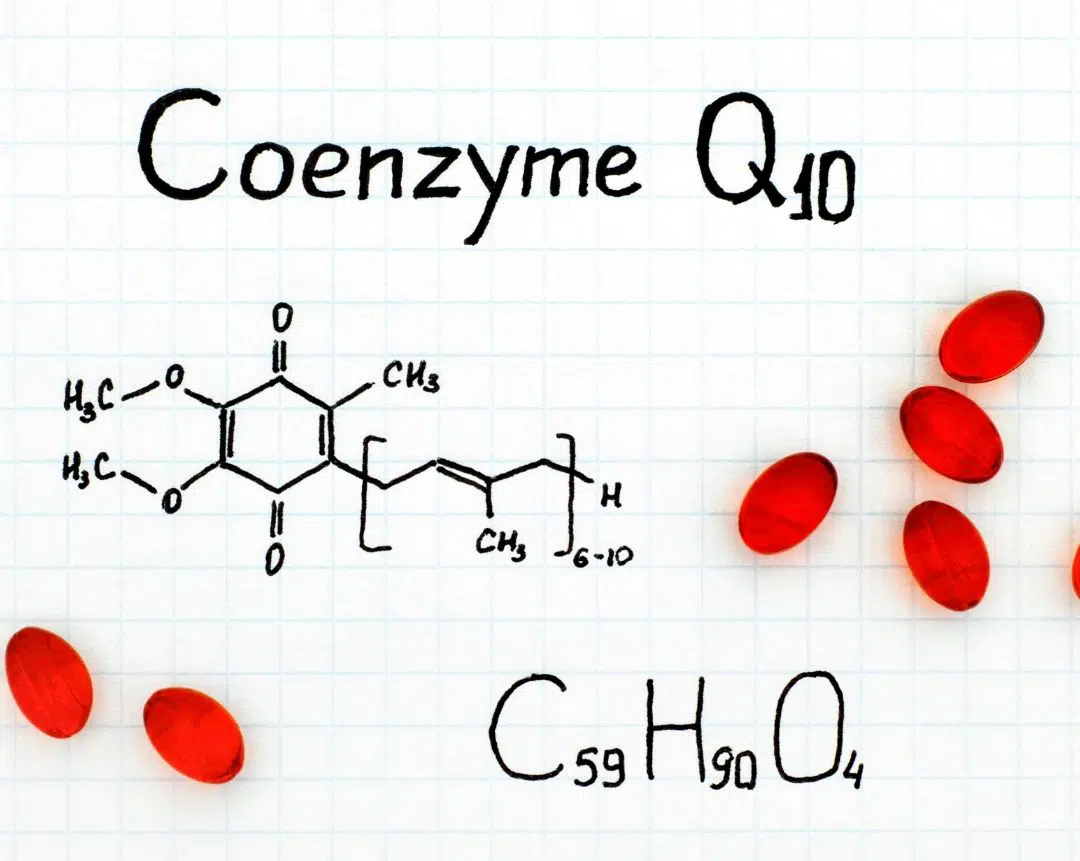 CoQ10 supplements can be taken in oral or cream form. The oral supplements work from the inside of your body outwards, powering up your cells' energy-producing capacity. CoQ10 is one of the supplements that Dr David Sinclair takes, the professor of genetics and co-director of the Center for Biology of Aging Research at Harvard Medical School uses it to counter the effects of some of the other products he takes.
Creams, on the other hand, work from the outside in – helping to repair and regenerate damaged skin cells, then absorbing into the body.
Essential Elements CoQ10 contains patented CoQsol – a form of the Coenzyme Q10 that increases its bioavailability. The formula invigorates energy production in the cells, accelerating the antioxidant capability of the CoQ10. 
The product also contains vitamins A and E, as well as rice bran oil, but it comes in a 200 mg dose per capsule, which is on the high end of the recommended daily dose. Research indicates that the ideal daily dose, with diet and health taken into account, is between 150 mg and 200 mg.
Essential Elements CoQ10 also has 2.6 times more bio-absorption, giving you more bang for your buck. 
We were quite intrigued by the inclusion of Annatto extract in the formula. This is taken from the leaf of the Annatto plant and is used in medicines as an antioxidant, as well as to treat diarrhea (one of the potential side effects of CoQ10), heartburn, and fevers.
It also contains titanium dioxide as a preservative, which is usually found in paints, cosmetics, and plastics. Titanium dioxide has been approved by the FDA as a food additive to a maximum of 0.5% per volume.
Pros
High CoQ10 volume per capsule
Great bioavailability
Includes Annatto extract
Includes vitamins A and E
Two-month supply per bottle
Cons
More than recommended daily volume
CoQWell offers a concentrated CoQ10 dose in each softgel capsule and includes vitamins E and A. These additions help to supercharge the CoQ10, amplifying the antioxidant capabilities of the core nutrient. 
These two vitamins also enhance the immune system, prevent clots in the arteries, assist in cell division, and support a healthy reproductive system. They also boost heart, brain, and bone health. So you know you're getting a powered-up product.
The oil-based formulation of this product, which comes as ubiquinone – the concentrated form of CoQ10 – is clinically proven to more than double the absorption of each dose. So you're getting double the benefit from each 100 mg capsule. 
This is one of the reasons that Live Conscious CoQWell made it into our top recommended list. Another reason is that it has rice bran oil in it which supports healthy blood sugar levels, lowers cholesterol, and has anti-inflammatory properties. 
And as a bonus, it has been seen to thicken hair as well.
Pros
2.6 times higher absorption
Added vitamins A and E
Contains rice bran oil
Affordable
It may help thicken hair
Increases energy
Cons
Nuzena's CoQ10 Complex + contains CoQ10's purest form, ubiquinone. This is packaged in a veggie capsule, making the concentrated formula vegetarian-friendly.
While it doesn't have the additional vitamins A and E like the other products in this roundup, it's rich in rice bran oil. And Nuzena places extra emphasis on the heart health, blood pressure support, and migraine relief of its product – all of which are benefits of both CoQ10 and rice bran oil.
At 200 mg per capsule, you're getting the maximum recommended daily dose of CoQ10. However, the absorption properties of vitamins A and E are absent, so the CoQ10 isn't as bioavailable as in other products.
The levels of CoQ10 in its Complex + product are sufficient to help treat certain heart conditions, migraines, as well as some of the symptoms of Parkinson's disease.
We like that the product was designed by health professionals, who are the most knowledgeable on the conditions that can be treated with CoQ10.
Pros
Designed by health professionals
High CoQ10 concentration
Contains rice bran oil
Helps treat migraines
Vegetarian 
Cons
CoQ10 (as Ubiquinone) Amount Per Serving by Brand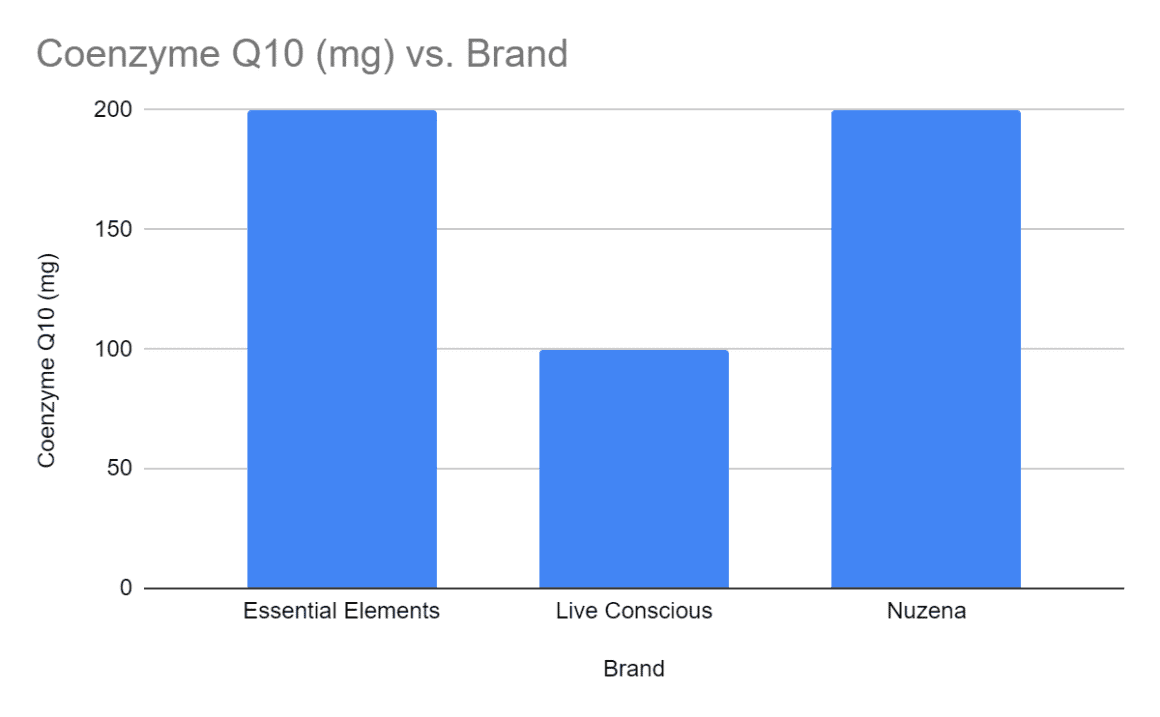 Best CoQ10 Creams + Lotions
The CoQ10 cream from No b.s. is packed with antioxidants that protect and support the elastin and collagen in your skin. 
Elastin is a protein found in the dermis that keeps your skin flexible and able to return to its original shape after stretching. Collagen supports the strengthening and hydration of the skin.
We like that this product doesn't leave a greasy residue after application to the skin. This is because it contains hyaluronic acid – an ingredient that draws moisture into the skin, leaving it looking fresh, plump, and glowing.
It can be used as a replacement for night retinol cream because it contains highly moisturizing jojoba oil. This oil is a natural moisturizer that reinforces the skin's lipid barrier. This builds up protection against environmental elements.
It is most often applied to the face and neck but can also be used for other areas of the body, and you only need to use a little bit on your skin. This can become a bit expensive though. 
Another bonus for us is that the packaging is environmentally friendly. So along with the ingredients being naturally sourced, this is an all-around earth-friendly product.
Pros
High in antioxidants
Added jojoba oil for skin protection
Contains hyaluronic acid
Protects against environmental elements
Recommended by dermatologists
Cons
Pump sometimes doesn't work
Calily Life uses only the highest grade ingredients in its CoQ10 cream, including its primary ingredient, ubiquinone. It also contains collagen and elastin-boosting hyaluronic acid, which helps to protect the skin against environmental stressors.
Jojoba oil brings healing qualities to this cream, and something we love is the inclusion of apricot kernel oil. This oil not only helps to reduce the appearance of aging by hydrating and plumping up the skin, but it also softens the skin and gives it a glowing radiance.
The Calily Life CoQ10 cream promotes enhanced skin cell turnover. This means that it stimulates the growth of new skin cells while shedding old and damaged cells.
It also contains vitamin C, a supercharger to the CoQ10's antioxidant properties. This protects your skin cells from free radicals from exposure to the sun, which can damage the skin and lead to disease later on in life. 
Vitamin C also helps to even out skin tone, inhibiting overproduction of melanin in the skin which can lead to brown spots and hyper-pigmentation.
Pros
Vitamin C for good skin tone
Apricot kernel oil for radiance
Hyaluronic acid and jojoba oil
High-quality ingredients
Good for most skin types
Packaged for easy use
Cons
Advanced Clinicals CoQ10 cream has a super mix of ingredients that work together to promote anti-aging for your skin.
It contains peptides which are amino acids that stimulate your skin to produce more collagen. 
It is also infused with honeysuckle extract which has anti-inflammatory properties and is rich in flavonoids and saponins which are antioxidants that protect your skin from free radicals. This ingredient also helps to improve skin tone and bring radiance to the skin.
Green tea, which is also an ingredient in this cream, is soothing to the skin and also has anti-inflammatory properties. 
We like how the honeysuckle works in combination with the aloe vera and chamomile ingredients in this product to reduce any redness and irritation that your skin may have. 
We also like the inclusion of Matrixyl 3000 – a special ingredient that accelerates the reduction of wrinkles, giving you smoother, more radiant skin in as little as two months.
Pros
Matrixyl 3000 for wrinkle reduction
Complementary ingredients enhance the effectiveness
Peptides stimulate collagen production
Affordable product
Cons
Heavy baby powder fragrance
CoQ10 Supplements and Creams FAQs
What Are The Signs Of CoQ10 Deficiency?
Depending on the severity of CoQ10 deficiency, some of the signs include poor muscle tone and stiffness, degeneration of vision, and problems with coordination and balance.
Severe CoQ10 deficiency can lead to neurological problems such as intellectual disability. You can also experience hearing loss.
What Does CoQ10 Help With?
CoQ10 supplements can help with migraines, high blood pressure, and have demonstrated benefits to those who have heart conditions such as congestive heart failure or who have recently had a heart attack.
CoQ10 creams help the skin to regain its firmness and radiance, reducing signs of aging such as wrinkles. They also help to protect the skin from free radicals that come from UV exposure.
How Much CoQ10 Should I Take?
In supplements, the current recommended daily dose is between 100 mg and 200 mg. If you are using a topical CoQ10 cream with a pump, you'll generally use between half a pump and a full pump of cream.
For either supplement pills and creams, always follow the instructions on the label.
Does CoQ10 Help with Fertility?
Some research has shown that CoQ10 can improve egg and sperm quality and fertility. This is because sperm and egg development and maturation require a lot of cellular energy, and CoQ10 stimulates energy production in the cells.