We've all heard the rumors that these magic little blue Goli Ashwagandha Gummies from Goli Nutrition are super yummy. Some say that they give you an amazing night's sleep and reduce your anxiety and stress.
In this review, dive deep into whether the Goli Ashwagandha Gummies work, what the ingredient list looks like, all the health benefits, and most importantly – whether there are any potential side effects.
Goli Ashwagandha Gummies (Our Review)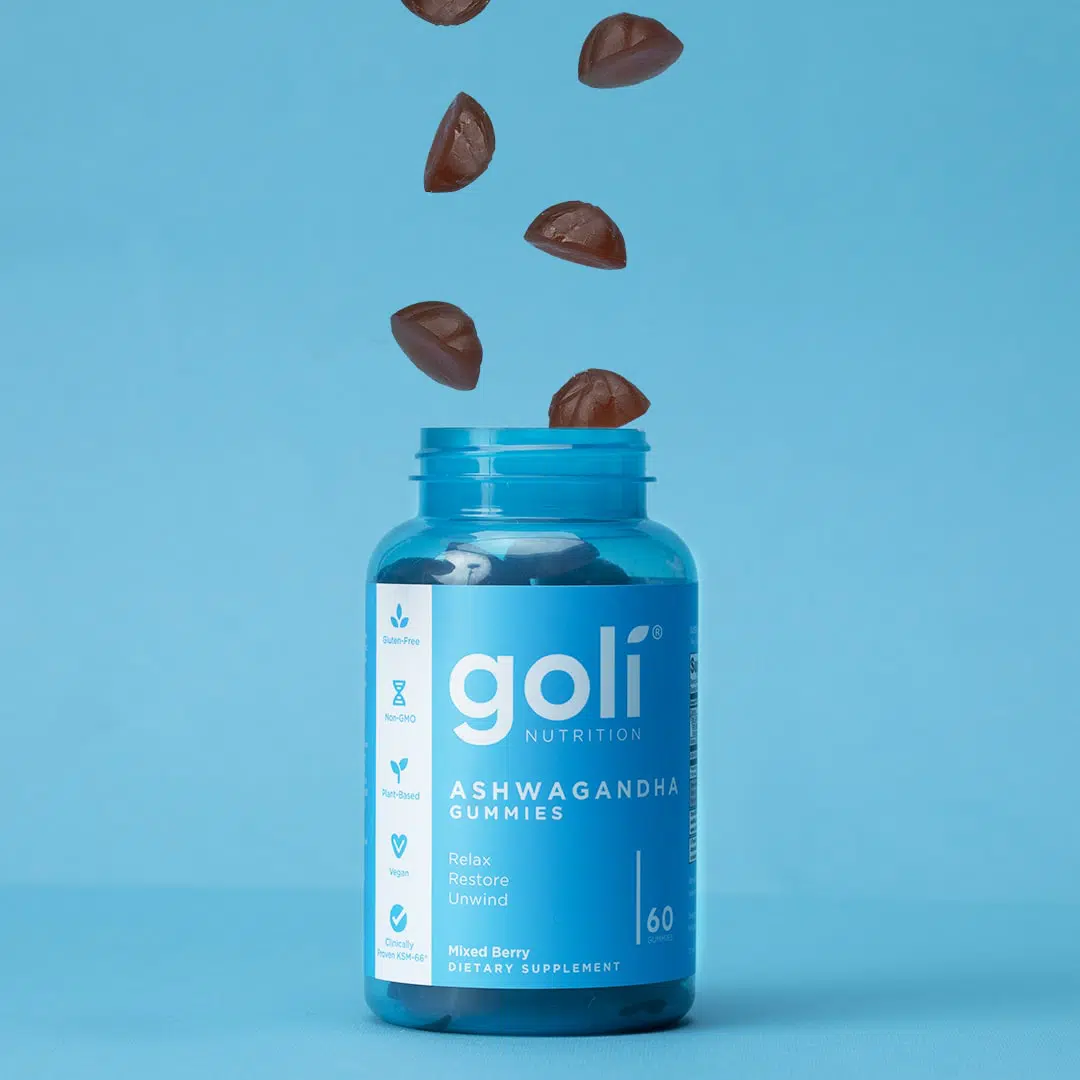 Overall Assessment
Goli Ashwagandha Gummies are a health supplement made from predominantly Ashwagandha and Vitamin D. It comes in a tasty mixed berry gummy form, with a total of 10 calories per gummy.
Ashwagandha is a small shrub with yellow flowers referred to as Indian ginseng or Winter cherry. It's native to India, the Middle East, and North Africa.
It has been used for thousands of years in Ayurvedic medicine to aid in pain relief, stress, and anxiety.
It's also known to treat inflammation and boost nutrition.
Ayurvedic medicine is the practice of using herbal, natural, or holistic methods to promote health and well-being.
Despite its natural origin, ashwagandha does come with some side effects that you should be aware of. For one, ingesting large amounts of the herb have been known to cause severe vomiting and diarrhea. This is certainly cause for concern, but you're unlikely to induce toxicity with the levels found in the gummies.
Still, the supplement should be stored out of reach of children or the elderly to avoid accidental poisoning.
You should also be aware that while ashwagandha is used prolifically in traditional and ayurvedic medicine, there's little clinical evidence to back up many of the claims made by the manufacturer. What studies have been done have shown little difference between the beneficial effects of the gummy supplements and a placebo.
Pros
Reduces stress and anxiety
Improves sleep
Helps with memory and brain function
Increases sex drive and general sexual function
Assists with weight loss
Cons
Liver problems may occur
Might interfere with thyroid tests
It's always recommended that you consult with your doctor or health care professional before ingesting any new medication or supplement.
Detailed Analysis
Ingredients in Blue Goli Gummies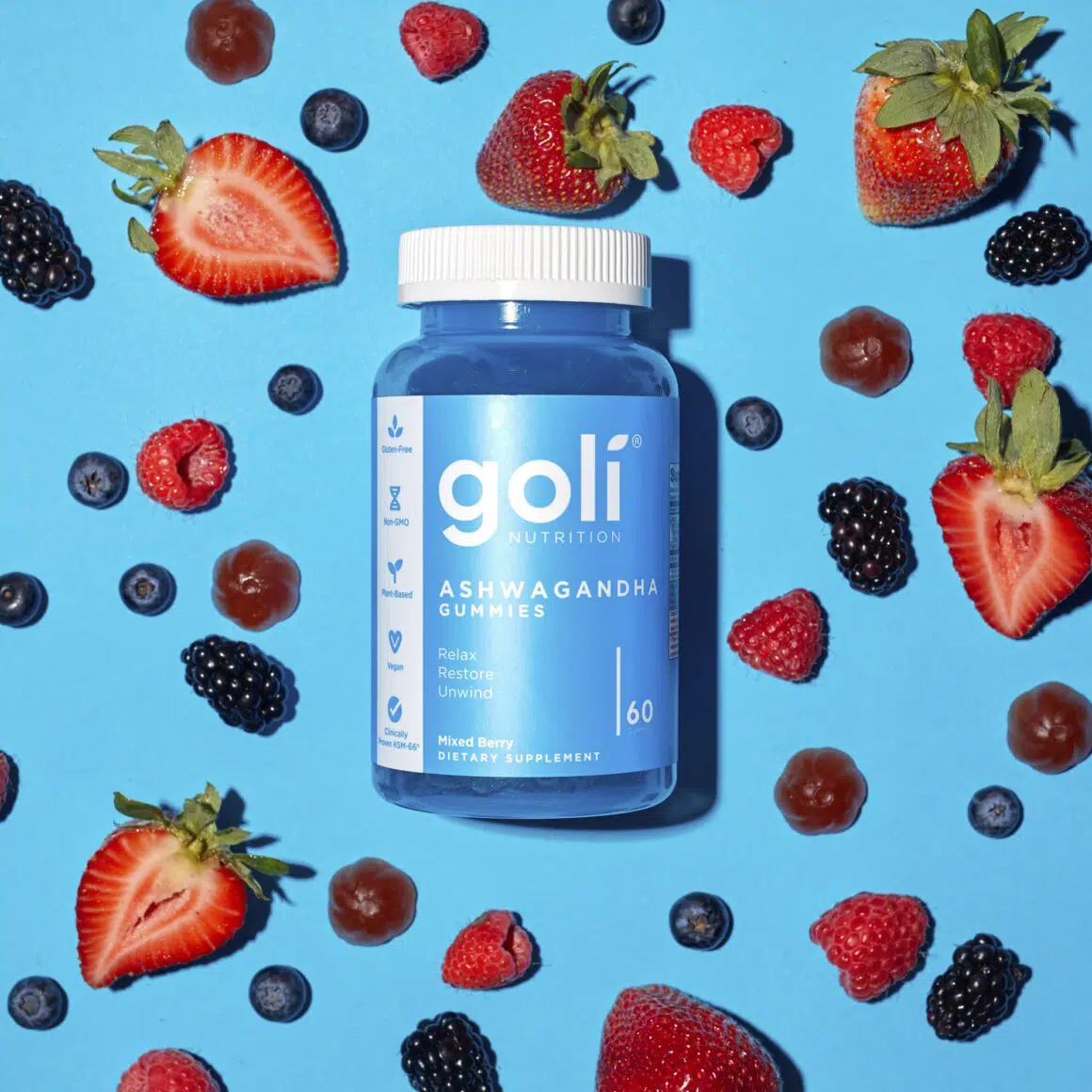 KSM-66® Ashwagandha Root Extract
The type of Ashwagandha used in Goli Ashwagandha Gummies is KSM-66. This is the most concentrated type of Ashwagandha as it's made from only the root of the plant. Other varieties of Ashwagandha found in the market use the leaves, which are less potent.
Ashwagandha is an adaptogen, meaning that it helps the body to manage anxiety and stress. It does this by lowering levels of cortisol in the body.
Cortisol is produced when you undergo stress. Ashwagandha is shown to lower levels of cortisol by 11-32% simply by taking a daily dose of 125mg for between 1 and 3 months.
Other benefits include an increase in brain function and a decrease in blood sugar. There are also reports that it helps with sexual function and physical performance (although research is not conclusive).
Vitamin D2 (Ergocalciferol)
Vitamin D is sometimes referred to as the sunshine vitamin because your body naturally produces it when exposed to sunlight.
Vitamin D is a fat-soluble compound that serves a range of different functions in the body. This includes assisting in the absorption of calcium and phosphorus, regulating bone growth and increasing immune system functioning.
It's vital that we receive an adequate amount of vitamin D for the development of bones and teeth.
Organic Tapioca Syrup
Tapioca Syrup is a natural sweetening agent that's a healthier alternative to sugar. It's also lower in calories than refined white sugar.
It's made from the roots of the cassava plant, manio, or yucca. It doesn't have any flavor and can be used in baking and cooking as a thickening agent.
Organic Cane Sugar
Cane sugar originates from South America. The juice which is extracted, evaporated, and crystallized, is jammed full of minerals and vitamins and high in molasses.
Molasses has high amounts of iron, selenium, and copper. This helps the body with calcium which in turn leads to healthy bones.
It's a great ingredient for increasing your blood sugar levels. It's also less processed in comparison to more commercialized sugars. Lower levels of processing leave the nutrients in the sugarcane intact, meaning it contains more nutrients and amino acids — 11 to be exact.

Pectin
Pectin is a natural setting agent used to make jams and jellies. Pectin is a fibrous substance found in the cell walls of plants and is found in some fruits (apples, oranges, and tomato seeds).
It's often used to make medicine, mainly for lowering cholesterol and triglycerides, improving blood sugar levels, and alleviating heartburn. This is crucial for ensuring lasting heart health, reducing plaque buildup around the arteries, reducing the risks of heart attacks and strokes.
Pectin is a known prebiotic, this means that it increases healthy bacteria in the gut. This helps control against infection from detrimental bacteria, lowering your chances of getting sick. Gut bacteria also plays a large role in our digestion and metabolism rates, which in turn help with weight loss.
Citric Acid
Citric acid is a natural compound used to preserve food. It's generally found in citrus fruits (lemons, limes, oranges, etc.). Medicinal properties include acting as an antibacterial and lowering the amount of acid in urine.
Lowering urinal acid is a key component of reducing attacks of gout. If you have a history of gout in your family, or if you have a diet high in red meat and rich foods, citric acid could keep you from the painful swelling in your feet and toes.
It's commonly used as a flavor enhancer or a preserving agent in drinks and gummy sweets.
Malic Acid
Malic acid is found in many fruits and vegetables. Our bodies also produce it naturally when we process carbohydrates. This in turn promotes energy production, keeping you active throughout the day.
Malic acid increases collagen. This helps to keep your skin shiny and elastic. More importantly, it keeps the cartilage around your joints healthy, reducing symptoms of osteoarthritis.
It's a great aid for increasing exercise endurance and improving muscle fatigue.
It has the ability to treat acne, reduce sun-induced signs of skin aging and assist in hydration and remove dead skin cells.
Sodium Citrate
Sodium Citrate is a friend of the kidneys. It disposes of uric acid, which in turn decreases acidity levels. This, in turn, prevents the formation of kidney stones and the onset of gout. Further adding to its kidney support, it assists in the treatment of metabolic issues caused by renal diseases.
It's used as an acidity regulator in beverages and foods like cheese and soft drinks. It's also widely used as an emulsifier as it removes excess oil/grease.
Organic Sunflower Lecithin
Sunflower lecithin is the extracted fatty substance found in sunflower seeds. Lecithin phospholipids and antioxidants are vital for health and wellbeing.
It also works as an emulsifier and treats cholesterol by binding with the fatty molecules and flushing them from your system. This reduces the risk of heart disease.
Other benefits of sunflower lecithin include helping the production of breast milk and treating ulcerative colitis, which is related to abdominal stress issues.
Mixed Berries
Not only are berries delicious, but they also offer a range of health benefits.
They are packed full of antioxidants. This means that they help your cells defend against harmful free radicals which cause degenerative diseases like cancer, dementia, and other symptoms of aging.
Berries are high in fiber, which helps your digestive tract, and keeps the cells lining your blood vessels healthy.
They help fight inflammation and improve your blood sugar levels.
Organic Fruit and Vegetable Juice
This is mainly used for the addition of color. Fruit juice is highly beneficial in that it serves as a great antioxidant, balances cholesterol levels, and is known to alkalize the body. It comprises of vitamins A and C, manganese, and beta carotene.
Fruit and vegetable juices help to increase energy levels and decrease hunger. This in turn keeps you from overeating and helps you burn excess calories.
Additives
Ashwagandha Gummies were designed with a number of dietary restrictions in mind.
They're free from animal products, gluten, soy, peanuts, artificial sweeteners, colorants, or artificial preservatives and salicylates.
Goli Nutrition
Goli Nutrition is a trusted brand in the world of health and supplements. The Ashwagandha Gummies are a follow-up to their popular Apple Cider Vinegar gummies. Many people ask what is the difference between red and blue Goli gummies.
All Goli products undergo intensive testing throughout the manufacturing and packaging processes. They pride themselves on using quality ingredients and ensure that staff is trained to guarantee the highest level of excellence.
While they follow the FDA's cGMP to ensure quality and safety during the manufacturing and packaging stages, their product hasn't received FDA approval. The FDA argues that the claims made by supplement manufacturers aren't backed up by clinical evidence.
Goli has recently introduced an orange gummy to their lineup, read our Goli Superfruits Review here.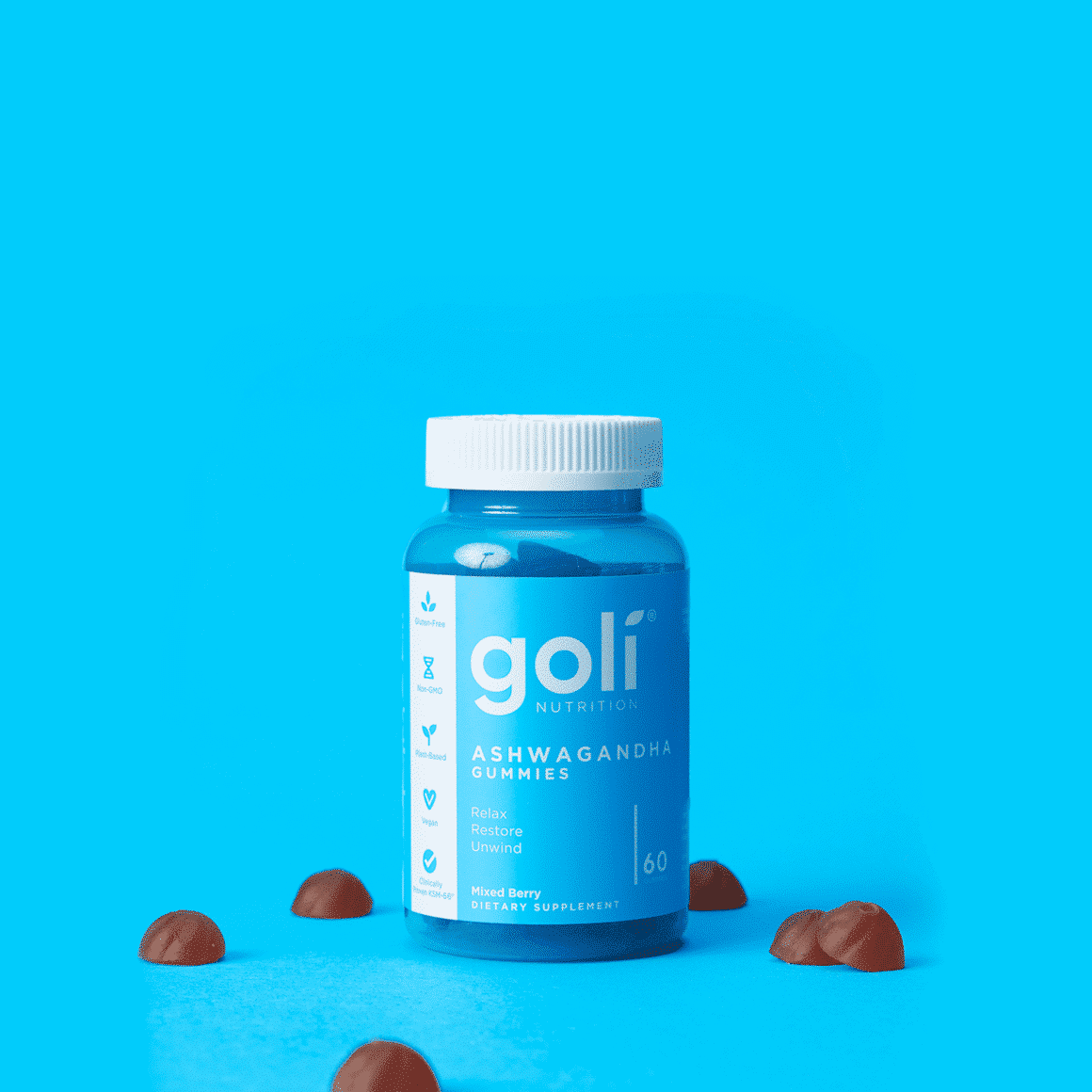 Goli Ashwagandha Reviews from Verified Customers
Positive Reviews
What's the verdict? Out of 13 167 reviews, 76% of customers gave it 5 stars.
Many customers felt that the blue Goli gummies deliver on their promise to lower stress and anxiety levels and improve sleep quality.
A substantial number of customers write that they have experienced significantly improved sleep after taking the supplement.
A fair amount of reviews note an increase in sexual function and sex drive. This is most noticeable in elderly customers.
A definite sign that this product is effective is that most customers say they will repurchase the gummies on a regular basis.
Negative Reviews
In terms of the negative reviews, only 4% of ratings were 1 star.
One area of concern is the packaging. Negative reviews claimed that their supplements arrived in damaged or incomplete packaging. Some had broken or missing safety seals, others received gummies that had seemingly melted together.
This raises some serious concerns about safety and packaging. Poorly packaged supplements could present a serious health risk as it provides an opportunity for bacteria and mold to form on the product.
Goli Ashwagandha Gummies FAQs
Can you take the Goli Ashwagandha Gummies and the Goli Apple Cider Vinegar (ACV) Gummies together? 
You can take Goli Ashwagandha and Goli ACV gummies together. Goli Nutrition made the two products to complement each other in order for the customer to gain optimal benefits when taking the supplements. 
What's the best time to take the Goli Ashwagandha Gummies? 
Goli recommends that you take the gummies in the morning as this will provide you with ample energy throughout the day. However, you can take the supplement at any time of the day. It's caffeine-free, so there's no worry that it will interfere with your sleep cycle.
An added benefit is that you don't need to line your stomach first as the gummies can be taken with or without food.
How long does it take for the gummies to work? 
Goli Ashwagandha Gummies can take anywhere from days to weeks to start taking effect, it all depends on the individual. 
In a study of 60 individuals who ingested a dose of 300mg of Ashwagandha Gummies, it was reported that it took up to 10 weeks for a noticeable improvement in sleep quality in comparison to participants in the control group.
How many gummies should I take per day? 
The recommended dose for optimal results is 1-2 Goli Gummies 3 times a day. It's important to note that there is no one-size-fits-all as the dosage is customizable to the consumer. 
Are the Goli gummies good for weight loss? 
Goli Ashwagandha Gummies contain loads of antioxidants, which are essential for well-being and weight loss. Antioxidants are highly beneficial in speeding up your metabolic rate and assist in decreasing inflammation. This in turn helps to burn any stored fat.