Druggenius.com is reader-supported. We may earn a commission through products purchased using links on this page. Learn more about our editorial process here.
Experiencing gas and bloating problems can be a real knocker. It can hinder you from moving about and doing the day's activities. Luckily, many over-the-counter medicine options can help relieve excessive gas quickly and the side effects that come with it. Today, we'll be tackling five of the best over-the-counter gas and bloating medicines available on the market to help you overcome them in the best way possible.
Top 5 Over The Counter Bloating Medicine
2 – Unbloat
3 – DigestWell
Klora Bloat Digest is our top pick for the best over-the-counter gas and bloating medicine. Aside from being an entirely vegan supplement, one factor that makes it stand out is it has the highest serving of enzymes compared to the rest of the products (350 mg). 
The selection of enzymes provides additional support for the immune system and the colon. 
Are Gas Problems Normal?
Getting rid of excess gas, either by burping or passing gas (flatulence), is part of the normal digestion process, so it should not cause some concern most of the time. 
The gas in your stomach is primarily caused by swallowing air as you eat or drink. Most of that stomach gas is released when you burp. It forms in your large intestine (colon) when bacteria break down or ferment carbohydrates (fiber, starches, and some sugars) that aren't digested in your small intestine. Bacteria also consume some of it but are eventually expelled when you pass gas from your anus. In fact, the average person passes gas between 10 and 20 times per day.
But if the gas is trapped or does not move well through the digestive system, belching and passing gas could be accompanied by some frequent uncomfortable symptoms such as the following:
Pain, cramps, or a knotted feeling in the abdomen
A feeling of fullness or pressure in your abdomen (bloating)
An observable increase in the size of your abdomen (abdominal distention)
Chest discomfort
Loss of appetite or feeling full quickly
Bloody stools
Change in consistency of stools
Change in frequency of bowel movements
What Causes Gas Problems?
There are a lot of factors that contribute to one having gas problems. 
Similarly, eating foods that tend to produce gas can trigger an increase in gas or gas pain:
Beans and lentils
Whole grains, such as brown rice, oatmeal, and whole wheat
Certain vegetables like asparagus, broccoli, Brussels sprouts, cabbage, etc.
Foods with fructose such as honey, apples, artichokes, onions, pears, okras, and some soft drinks
Foods high in soluble fiber like avocados, sweet potatoes, bananas, broccoli, turnips, pears, etc.
Foods rich in starch like corn, pasta, and potatoes
Dairy products
Drinking carbonated beverages
Certain artificial sweeteners, such as sorbitol, mannitol, and xylitol
Seemingly harmless eating habits could also cause some problems:
Eating too quickly
Drinking through a straw
Chewing gum
Sucking on candies
Talking while eating
These eating habits have one thing in common, they all cause you to swallow in more air.
Similarly, gas problems could also be symptoms of a number of medical conditions like chronic intestinal diseases (ulcerative colitis or Crohn's disease), food intolerances, and constipation.
The List
The 5 products on this list are all formulated to help reduce bloating and gas. They all come from trusted brands within the nutrition space.
↓ Save 50% ↓
Klora's Bloat Digest formula boasts a unique and powerful proprietary blend of bloat-preventing enzymes that help effectively alleviate digestive problems like gas, bloating, and constipation which can affect one's quality of life.
Unlike most brands, Klora's ingredient blend is derived from non-animal sources, namely papain, bromelain, amylase, lactase, protease, and cellulase, which all work to target different digestive functions and ensure their optimal state.
Bloat Digest's anti-bloat digestive enzymes help break down food more efficiently, which may help relieve bloating and uncomfortable gas production commonly experienced after meals.
These digestive enzymes can also help prevent post-meal fatigue (often caused by indigestion) and give the body energy to last the day by breaking down meals into smaller components. 
Another thing that makes Klora stand out among other brands is that it aims to maximize nutrient absorption by helping break down carbohydrates, lipids, and protein properly. It also supports the cells that line the tract.
As a finishing touch, by ensuring optimal digestion and lipid metabolism, the product paves the way to clearer and more radiant skin.
You can be assured of Bloat Digest's purity and efficiency, as the products are manufactured in an FDA-certified facility and made with clean, traceable ingredients. It's also free from artificial flavorings, fillers, and allergens to ensure higher safety.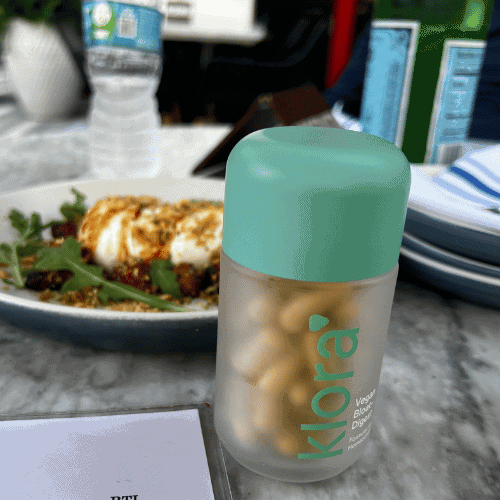 Ingredients:
Papain, Bromelain, Amylase, Protease, Lactase, Cellulase, Magnesium Stearate (vegetable), Bamboo Extract Powder, Veggie Capsule.
Pros
Clean, traceable ingredients
100% vegan/plant-based
Non-toxic
No artificial flavors 
No synthetic fillers
Third-party tested
Free from allergens like grain, soy, nut, dairy, and corn
Manufactured in an FDA-certified facility 
No minimum commitment
Free & easy cancellation
Control your delivery schedule
Relatively affordable
Cons
Limited stocking may affect regular subscribers
↓ Save 50% ↓
Manufactured with a powerful, all-in-one, bloat-fighting solution made up of 40 essential ingredients Unbloat is a fairly new addition to the market. It was formulated by board-certified gastroenterologist Dr. Shilpa Mehra.
Unbloat utilizes the power of seven probiotics that support your gut microbiome and stop gas-producing bacteria from spreading to help ease your stomach and keep it from bloating, as well as facilitating smooth bowel movement. It also contains 21 digestive enzymes that help your body digest foods, absorb nutrients better, and even help support healthy weight management. Spices like turmeric, ginger root, and peppermint leaf also work together to relieve abdominal pain and constipation.
The probiotics not only work for your gas problems but can also be extremely beneficial for your mental health. There have been studies that show probiotics can help with depression, and boost your mood significantly, making you more functional and productive. Additionally, Unbloat's probiotics can improve your skin's complexion by making it clearer and reducing the effects of aging.
What we liked most about Unbloat and one of the primary reasons it tops our list is that if you subscribe to their product you get access to free, confidential consultations with the doctor that formulated the brand. That's a significant bonus versus the other products on the list.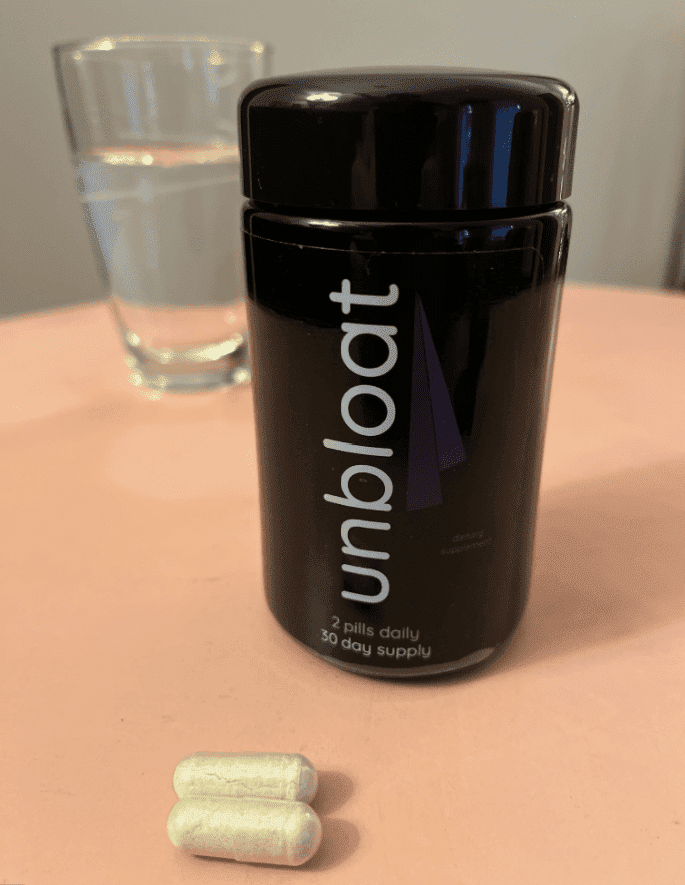 Pros
🥬 Vegan-friendly
🚫 Non-GMO
Uses all-natural, scientifically-backed ingredients
Shows promising results in a matter of days
Provides a 30-day risk-free guarantee
Provides fast, free shipping
No refrigeration needed
Cons
Product price might be too high for some consumers
Dosage
Take two (2) capsules each morning – ideally on an empty stomach, with a full glass of water.
Our Experience
We found Unbloat to relieve bloating symptoms within a day or two. Over time, we did see a decrease in the occurrence of gas and bloating. We will continue to take the supplement and update this review with our findings.
DigestWell® contains 10 broad-spectrum, plant-based digestive enzymes to help the body better absorb key nutrients and support proper digestion to bring quick, effective relief to symptoms related to digestive problems, so you can live your best life without hassle.
Plant-based enzymes such as bromelain from pineapple, papain from papaya, and intestinal enzymes, amylase, glucoamylase, cellulase, protease, lactase, lipase, and hemicellulase, are integral to proper digestion. On the other hand, the combination of ginger extract, fennel seed powder, and peppermint leaf extract also helps relieve abdominal pains and bloating. 

Additionally, DigestWell contains DE111 Bacillus subtilis, a clinically studied and patented probiotic strain that facilitates the growth of good bacteria in the gut, which helps stop the spread of bad bacteria and ensure consistent proper digestion.
Pros
Third-Party tested
Non-GMO
Preservative-free
365-day, 100% money-back guarantee.
Affordable
Free U.S. Shipping on all orders
Cons
Results may vary per individual
May cause adverse side effects on some
Contains wheat, soy, and milk 
Dosage
Take 1 capsule daily with a meal and an 8-ounce glass of water.
Gas and bloating problems can be a real inconvenience, especially if you're an active, lively person. Luckily, Debloat+, with its benefits, is here to be your day-to-day constant to keep the tummy troubles away.
Debloat+'s masterful, clinically proven blend of 17 digestive enzymes, natural ingredients, and ayurvedic extracts work together to effectively ease and address gas problems at their very root.
The enzymes help to properly break down the food you eat in order to absorb its nutrients. Aside from aiding in digestion, licorice root also reduces cramps and heartburn and promotes anti-ulcer activity. On the one hand, Turmeric relieves cramping, bloating, and abdominal pain.
Other ingredients also provide fantastic health benefits, such as cinnamon root powder which supports gut health, helps manage blood pressure, and lowers blood sugar levels and the risk of type-2 diabetes. Organic ginger root powder prevents nausea, soothes the stomach, and greatly relieves inflammation.
Pros
Clinically proven, organic, vegan, cruelty-free, and gluten-free
Formulas are free of toxins and other additives
Ingredients are responsibly sourced
95% of materials are recyclable
Free US standard shipping
15% off your first order
Cons
Higher price point compared to other products
Results may vary among clients/consumers
Shipping only available to US locations
Dosage
Take two capsules a day with food, one in the morning and in the evening. Drink with water. 
Never has the phrase "hitting two birds with one stone" fit well with a supplement like Flatter Me™, which helps you achieve both a flatter stomach and healthy digestion at the same time. But how does it do it? 
Flatter Me boasts a formula of 18 full-spectrum digestive enzymes to help break down food to facilitate better digestion. For example, papain, amylase, and lipase help break down carbs, fiber, lactose, starches, and fats and reduce abdominal pain and bloating, while bromelain, derived from pineapples, helps digest proteins. Fennel soothes digestive issues like bloating and distention and helps the body absorb the nutrients better.
Aside from promoting good digestion, ingredients like ginger root and peppermint leaf contain strong antioxidant properties, which can also aid the body in fighting off diseases and help keep your body in a better state of health.
Pros
Non-GMO
Verified by independent labs for potency
Triple-tested for purity
No artificial sweeteners or colors
Gluten-free
Reasonably priced
Cons
Results may vary on some people
Some people reported feeling nauseous after taking the supplement.
Dosage
Take 1 capsule, twice daily, before your two main meals. 
Probiotics have a host of health benefits, and that's what 1MD Nutrition's Complete Probiotics Platinum® aims to promote. This supplement helps facilitate the digestive tract's normal microbial balance, promoting gut health, and boosting the body's overall immune system.
Compared to most probiotic supplements, the Complete Probiotics Platinum is specially made with an effective dosage of Nutraflora prebiotic fiber to maximize its effectiveness. Each capsule is delayed-release to resist stomach acid and ensure safe delivery to help them reach their intended destination—in the intestinal tract where the gut microbiome resides. It helps alleviate and prevent problems like occasional gas, bloating, and abdominal pain and helps digest food properly to fully absorb its nutrients. 
But it doesn't stop working in your gut alone; the probiotics help boost your immune system, inhibit the growth of harmful gut bacteria, and promote the production of natural antibodies in the body. With all that set in motion, an optimal state of health won't be far in sight.
Pros
Uses globally sourced ingredients
Vegetarian
Dairy-free, peanut-free, shellfish-free, gluten-free, soy-free, and preservative-free
Non-GMO
Stable, no refrigeration needed
Long shelf life
90-day money-back guarantee
Free U.S. Shipping on all Orders
Out-of-stock protection
Reasonably priced
Results start to show as early as after a week of consistent consumption
Cons
Probiotics may cause a few side effects, especially for first-time takers and people with gastrointestinal medical conditions.
Dosage
Take one (1) capsule daily on an empty stomach or between meals as a dietary supplement. Those with sensitivity concerns may prefer to take with a small meal.
Frequently Asked Questions
Who can take gas medicines?
Most gas medicines and supplements in the market are designed for people aged 18 and above, though there are products that are specially manufactured for children.
Can you take gas medicine while pregnant or breastfeeding?
It depends on the particular gas medicine brand, since not all of them have been studied if they are safe for use with pregnant or breastfeeding women. That's why it's always important that you consult first with your doctor when you're pregnant before taking any over-the-counter medications.
Can antacids help relieve gas problems?
No. antacids don't relieve gas. Despite the similarity of symptoms, gas can mimic heartburn-like discomfort after eating. Each of them has a different active ingredient that neutralizes the stomach acids coming into contact with your esophagus, rather than the gas buildup in the digestive tract.
Can gas medicines cause constipation?
Some individuals may experience gastrointestinal symptoms such as constipation. If you experience constipation, stop using the product and consult with your doctor to determine if Gas-X is appropriate for your use.
Can I take gas medicines with other supplements/medications?
Some supplements claim to be compatible with multivitamins or other types of medications. Still, if you take multiple over-the-counter or prescription medications, you should check in first with your physician before adding another to your routine.
Are gas medicines compatible with any diet?
Most gas medicines and supplements now cater to people who subscribe to vegan, vegetarian, ketogenic, gluten-free, and paleo diets. But it's important to check the ingredients and formula thoroughly ahead before settling with a particular product.
Can gas medicines cause additional side effects?
While gas medicines are generally safe, a few people might experience side effects and even allergic reactions to certain supplements. Do some research first about the product of your choice and check if its ingredients are compatible with your health needs.
Takeaway
Gas problems can hinder you from being productive. Still, thankfully, the advancements of pharmaceutical science continue to create ways to relieve digestion problems promptly while providing a host of health benefits all at once.
But gas relief isn't exactly a one-size-fits-all medication. Certain brands on the market use various ingredients, depending on their fill, which might be incompatible with your health needs. So it's important to do some product research or talk to your doctor if you're unsure what ingredient best suits you. 
If your gas and bloating problems become more persistent, speak with your doctor about potential root causes and a more suitable treatment plan.
Disclaimer: this article does not constitute or replace medical advice. If you have an emergency or a serious medical question, please contact a medical professional or call 911 immediately. To see our full medical disclaimer, visit our Terms of Use page.
Related Articles
Do Probiotics Cause Gas & Bloating?
Does Pepto Bismol Help With Gas?
How Long Does It Take For Probiotics To Work?
Pregnancy Bloating Vs Period Bloating