Morning Complete Review – with a growing demand for supplements that improve our daily lives, it's no surprise to see the increase in the number of products on the market. Many of us want or need that boost in the mornings to get us through the day.
It may be a smart drug that increases our alertness and reduces fatigue or a drink designed to support energy levels and our general health. Either way, there are a huge number of options to choose from when it comes to finding the right supplement for you. 
Today we hope to make choosing a supplement a little easier for you by reviewing one of the most popular supplements available. That supplement is Morning Complete. Morning Complete is the leading daily dietary supplement from the ActivatedYou wellness product line.
If you need a boost in your overall wellness, need energizing, or if your digestive system needs regular support Morning Complete could be for you.  
To help find out if this green drink supplement could be the right one for you we have looked at everything. In our review, we have looked at every ingredient, what the supplement does, how it works, who makes it, as well as how effective it is, and any side effects you should know about. 
Without further ado let's get stuck into the review.
Druggenius.com is reader-supported. We may earn a commission through products purchased using links on this page. Learn more about our process here.
What is Morning Complete?
Morning Complete is a wellness drink designed for individuals who need or want to improve their daily energy levels, overall health, and their digestive function. This powerful daily wellness drink features a custom-selected blend of nutrients specifically created to support your body.
The "all-in-one", easy to take health drink uses a unique combination of prebiotics, probiotics, and green superfoods. 
The delicious apple and cinnamon flavored drink is perfect for anyone who wants to start the day off with a health boost that will allow them to enjoy optimized health throughout their lives.
With one scoop ingested with 8 ounces of water or tea, Morning Complete promises to have an immediate impact on your health.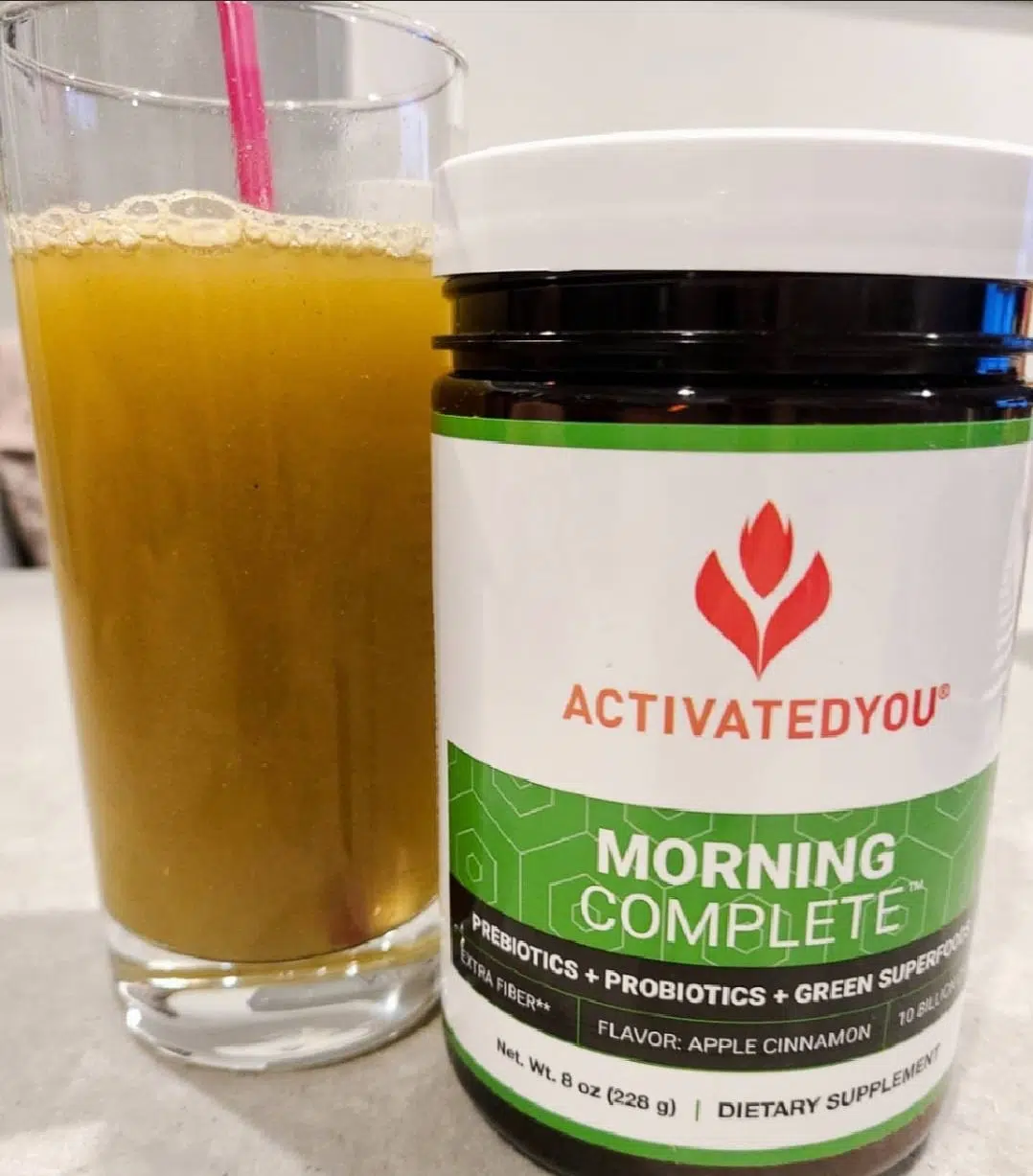 Who Makes Morning Complete?
It is important when taking any dietary supplement that the manufacturer is a trusted source. Morning Complete is produced by ActivatedYou. ActivatedYou is a relatively new company that focuses on offering holistic nutrition.
Currently ActivatedYou doesn't have an extensive product range with Morning Complete clearly being their most popular product.
Despite it not being completely clear who started ActivatedYou there are two notable faces who would appear to be instrumental in its founding.
These people are actress and health advocate Maggie Q and Dr. Frank Lipman who is the owner of a hugely popular medical center in New York.
Whilst it's good to see a medical doctor involved in product development it could be seen as a concern that the other founder doesn't have any medical background.
Having said this, ActivatedYou's three core principles are that all of their products including Morning Complete are scientifically proven, plant-based, and environmentally friendly.
Having a medical expert on board who specializes in gut health reinforces this and gives us confidence that this newer brand can be trusted.   
How Does Morning Complete Work?
Morning Complete contains a mix of prebiotics and probiotics. The probiotics support the development of good bacteria in the gut, whilst the prebiotics feed that bacteria to support good overall digestive health.
This can reduce symptoms of bloating, gas, and poor digestion. 
The antioxidants and green superfoods support your overall health and wellness through the strengthening of your immune system. Antioxidants also destroy free radicals and lower oxidative stress to support healing in the body.
There are a collection of ingredients in Morning Complete that support a healthy metabolism which in turn increases fat burning, motivation, and mental health.
Other ingredients also improve blood sugar levels, decrease the levels of stress in your body, support a healthy liver, and improve cellular functioning. 
Pros and Cons
To get a good idea of how good Morning Complete is, let's take a look at some of the pros and cons.
Pros:
Health benefits – The nutritional health supplement can help improve a variety of factors including digestive functionality, blood sugar levels, and productivity. 
Contains antioxidants – Antioxidants protect your cells against free radicals.
Evidence-based ingredients – Some ingredients in Morning Complete have been scientifically proven to work. 
Cons:
No third-party approval – Morning Complete doesn't have the seal of approval from an outside source. 
Pricey – This supplement is rather expensive when compared to other supplements on the market.
How Does It Taste?
Morning Complete has an apple cinnamon flavor. While this isn't really an athletic greens alternative it does taste similar to many of the green powder drinks that are on the market today. A thin mouthfeel with a slight grassy taste. The apple cinnamon flavor does make it more pleasant. Either way, it's easy enough to just down the 8oz in one go and be done with it for the day.
Health Benefits of Taking Morning Complete
If a health supplement is worth taking it must have positive benefits that impact health and wellness. When reviewing Morning Complete we were impressed with how many positive benefits the supplement comes with.
There are ingredients in Morning Complete that support most aspects of your body's health. In the list below you can see exactly what benefits can be expected. 
Skin Health
Thanks to green superfoods, antioxidants, and anti-inflammatories you can expect your skin to remain healthy. These three ingredients protect against free radicals and toxins that age your skin and cause cell damage.
Having healthier skin not only offers individuals a health boost but also a confidence boost too. Feeling positive about how you look and feel improves general happiness and motivation, giving you the belief and confidence you need to do more with your day. 
Weight Management
Morning Complete has been shown to support weight loss and weight management. The sugar balancing support, probiotics, antioxidants, and high fiber blend help control food cravings better, helping to control how much food is ingested.
This in turn helps individuals take back control over their weight and start to obtain a healthier lifestyle.
Improve Heart Health
As a result of Morning Complete's anti-inflammatory and antioxidant ingredients, you can expect a lower risk of heart disease and other cardiovascular illnesses.
Thanks to Morning Complete's sugar-balancing support you also have a reduced risk of diabetes which can seriously damage your heart.   
Improved Gut Health
Morning Complete prides itself on its ability to improve your gut health. Its mixture of high fiber blend and probiotic ingredients is ideal for taking care of your digestive system. On top of that, the green superfoods help to promote healthy bowel movements and the absorption of nutrients. 
These ingredients help to improve your gastrointestinal tract. When your gastrointestinal tract is healthy your immunity is increased. As a result, your body will function more effectively and efficiently. 
Increased Metabolism
Morning Complete features five hand-selected nutrient blends which are perfect for revving up your metabolism. This increase in metabolism provides you with the boost you need to perform at your best throughout the day.
As well as giving you the lift you need, the increase in metabolism you will experience as a result of taking Morning Complete will support weight loss, help the body protect itself against oxidative stressors, and support healthy liver functions.  
Improved Mental Health
Studies have found that there could be a link between improved gut health and mental health such as reduced anxiety, stress, and depression. Microbes in your gut produce chemicals that help control how the brain works.
With ActivatedYou Morning Complete's prebiotics and probiotics, we could see a positive impact.
Both of these ingredients have been linked to altering gut bacteria and improving brain health by reducing the symptoms of depression and anxiety. 
Side Effects of Taking Morning Complete
Taking a new supplement for the first time can be quite daunting as you may have concerns over how your body will react. In the list below you will find the side effects you could possibly encounter when taking Morning Complete.
Despite there being a number of different potential side effects it is worth noting that the chances of you experiencing any are very slim. Many of the ingredients in Morning Complete have no reported side effects so the list of potential side effects is actually a lot smaller than other supplements.
Diarrhea
After taking Morning Complete you may experience a mild bout of diarrhea. Though this is unpleasant it shouldn't last too long.
Users who have experienced diarrhea as a result of taking Morning Complete have also stated that the symptoms were only mild and only lasted for a couple of hours. 
Stomachache
Some people do report experiencing mild stomach aches when they first use this supplement. This is quite normal when your body is getting used to the nutrients from any supplement. 
Gas
Another potential side effect you may experience is the passing of gas. This side effect is more common in the first few days of taking Morning Complete but is nothing to worry about. It is completely normal and something that shouldn't last long at all. Many probiotics cause gas when you first start taking them.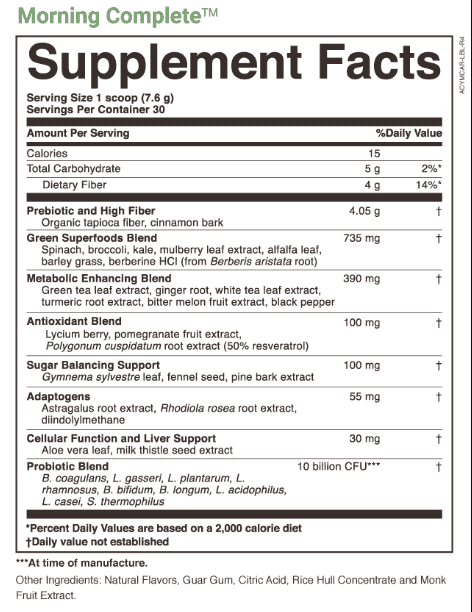 Morning Complete Ingredients
Morning Complete contains eight wellness "blends" that are unique to the product. After taking a look at each ingredient here is what we found about each blend.
Prebiotic and High Fiber Ingredients
Prebiotics are fibers that nourish healthy bacteria in your gut. Morning Complete contains a blend of cinnamon bark and chicory root fructooligosaccharides (FOS). Here is a list of the best prebiotic and probiotic combinations.
Chicory root has qualities that help good bacteria in your gut grow and multiply. Cinnamon bark can treat gastrointestinal symptoms such as constipation, bloating, gas, diarrhea, and can also control the appetite to help the user maintain a healthy body weight.  
Green Superfoods Blend, 735 mg
The green superfoods blend in Morning Complete contains several leafy green extracts such as spinach, barley grass, kale, broccoli, berberine HCL, mulberry leaf, and alfalfa leaf. As you probably already know there are many health benefits from consuming greens.
Superfood supplements are becoming increasingly popular as the public becomes more aware of the benefits. Green superfoods contain high amounts of the vitamins and minerals our bodies need to function efficiently.
Unlike a daily vitamin you may take, these superfoods are absorbed more by your body from within your gastrointestinal system. This is a result of the formula being a powder mixed with water rather than a hard-to-dissolve capsule.
Metabolic Enhancing Blend, 390 mg
This blend is designed to support a healthy metabolism which could provide an energy boost or help you lose weight.
This blend contains a number of notable ingredients. These ingredients are green tea, ginger, and turmeric. 
Green tea is known to improve mental function and also has antioxidant properties and potential fat-burning properties. Ginger root has anti-inflammatory properties that can help lower blood sugar which assists in protecting your digestive system.
Finally, turmeric root extract has anti-inflammatory properties, antioxidant properties, and a long list of health benefits.
Also included in this blend is white tea leaf extract, black pepper fruit, and bitter melon fruit extract. These other ingredients also have a variety of health benefits. 
Antioxidant Blend, 100 mg
For ActivatedYou's Morning Complete to work there have to be antioxidants present. Antioxidants keep the body clear of any dangerous free radicals.
Free radicals can cause oxidation damage in the brain so it is important the antioxidants are effective.
Research shows that the antioxidants present in Morning Complete are effective. The antioxidants present in this supplement include Lycium berry, pomegranate fruit extract, and Polygonum cuspidatum root extract.
These antioxidants keep every part of your body healthy and also have anti-aging properties. They may even help reduce the risk of heart disease. 
Morning Complete contains 100mg of healthy antioxidants. This is a great way to start your morning. 
Sugar Balancing Support, 100 mg
The main ingredient in this blend is Gymnema sylvestre. Gymnema sylvestre can reduce blood sugar levels. This is great for people dealing with high blood sugar levels and is exactly what the supplement claims to do.
Other ingredients in this blend are pine bark extract and fennel seed which also help to regulate blood glucose levels. 
If you do have low blood sugar levels and already take supplements to balance your blood sugar, make sure you do some research before taking Morning Complete to ensure this component of the blend won't lead to any side effects.
Adaptogens, 55 mg
Adaptogens are plant compounds that can improve the body's resistance to stress. These herbal supplements are designed to adapt to the body's needs to effectively deal with stress more effectively. 
Unfortunately, there is no conclusive scientific research on adaptogens so we can't confirm or deny just how good they are. Morning Complete contains Astragalus root extract, Rhodiola Rosea root extract, and diindolylmethane. 
Cellular Support and Liver Function Blend, 30 mg
In this blend, you will find milk thistle seed extract and organic aloe vera leaf. Aloe Vera helps clean your gut of toxins, leaving the good bacteria undisturbed. This improves overall gut health.
Not much research has been carried out on milk thistle but findings so far suggest it is an anti-inflammatory that promotes cell regeneration in the liver.
The addition of liver support in the supplement is an added bonus because our livers go through a lot. Taking a daily dietary supplement that can improve your liver health is a great idea. 
Probiotic Blend
Probiotics are vital to the effectiveness of Morning Complete. They are where the real work is done. Body's require certain flora or gut bacteria to remain healthy.
Without assistance, it can be hard to maintain healthy levels. 
A range of stomach and bowel issues come from a lack of good gut bacteria. As a result, it has become increasingly popular for people to take probiotic supplements. Probiotics support your "microbiome" which affects the rest of your body.
By taking a probiotic dietary supplement like Morning Complete you can improve your digestive health, heart health, weight loss, and immune system. 
Review Of Ingredients
Almost all of the ingredients in Morning Complete are scientifically proven to be a big part of a healthy diet. With ingredients like white tea leaf extract, Rhodiola Rosea root extract, cinnamon bark, and green tea leaf extract Morning Complete is sure to support your general health and wellness.
Dosage
The recommended dose of Morning Complete is one daily scoop of the wellness drink powder mixed with 8 ounces of water or tea. One scoop contains 7.6 grams of all the ingredients.
You don't need to take anymore or any less than this recommended dose. By taking the correct dosage you can expect to see a variety of positive results. 
If you do take more than the recommended dose you will have an increased chance of experiencing some of the side effects. This is why we strongly recommend you stick to the correct dose. 
Where To Buy Morning Complete
It is important that you buy Morning Complete from a reputable source. By doing so you are guaranteeing that you will receive exactly what you have ordered and that what you have ordered is the best product available.
You can buy Morning Complete from ActivatedYou's official website. On the ActivatedYou website, you have the option to purchase the supplement in three order sizes. They are one jar, three jars, and six jars.
To start with we recommend that you purchase just one jar. We advise this because you don't want to spend too much money on six jars to then find out you don't link the supplement.
Buying just one jar gives you the opportunity to try the drink out first to see if it is something you want to continue using. 
If you do like the supplement then is time to start ordering more jars. At that point the more jars you order the better price you get. Ordering one of the multi-packs is much more affordable in the long run.
Morning Complete Review from Users
Here are some reviews from people who currently use Morning Complete regularly. 
According to John. H:
"after a few weeks of usage, my bowel movements are now completely solid and non-messy. A clean wipe after almost every sitting. I don't know if that means much to you, but to me, it's a big deal.
All the other benefits people mention here seem consistent, but I can't swear to feeling more alert, or anything like that. I just know that my gut is healthier, I see it, I feel it, and I get the benefits I wanted. That's enough for me."
Amanda. W. says:
"I feel good overall and my sugar cravings are gone. The only thing is I have a HORRIBLE headache. I can't figure out what else it would be from except the Morning Complete since it's the only thing I have added."
According to Joyce. B: 
"ActivatedYou Morning Complete works fast, within 30 minutes of finishing my drink I feel the urge to do my business…love getting it out of the way and feeling good the rest of the day!"
Takeaway – Is It Worth It?
So you've made it to the end of this Morning Complete review, would we recommend it?
Morning Complete contains tons of healthy ingredients that have been shown to offer a long list of health benefits that include improved gut, skin, and heart health as well as improved weight management and increased metabolism.
It is clear that the supplement is well-researched and well-formulated as it is rare to find a supplement that includes probiotics, prebiotics, antioxidants, green superfoods, and adaptogens all in one drink.
Despite being manufactured by a relatively new company that doesn't have third-party approval, we believe that overall Morning Complete is definitely worth it.
The company uses high-quality ingredients to produce an effective and more importantly safe product that comes with some awesome health benefits. 
Now that you've read our review are you tempted to try Morning Complete? If you are, why not order your first bottle to give it a try.
Remember changes do take time so don't be too disappointed if you don't see changes straight away. We are sure you'll be feeling the benefits in no time at all.    
Frequently Asked Questions
What Are The Precautions I Need To Take When Using This Supplement?
Morning Complete is quite convenient as it doesn't really come with any substantial precautions. As it is made from natural ingredients there are a few things that need to be considered. One thing that does need to be considered is the presents of aloe vera in the product.
The manufacturer warns that the supplement does contain aloe vera which can occasionally cause digestion and stomach issues such as diarrhea. This isn't something that should trouble you as it is fairly uncommon but it is worth knowing. 
Where Should Morning Complete Be Stored?
Ideally Morning Complete should be kept in a refrigerator if possible.
Although it's not a must, keeping your Morning Complete in the refrigerator gives it a longer shelf life and simply ensures the product doesn't go off, which can happen if the supplement is stored somewhere hot. 
How Long Does It Take For Morning Complete To Work?
It can't be conclusively said as to when Morning Complete will start to work for you but we can make a pretty good estimation.
Everybody's body is different so the effectiveness of the supplement will vary depending on who you are and how your body works. It could take just a couple of days for the supplement to start working.
On the other hand, it could take a couple of weeks with a number of users experiencing an energy level increase after approximately two weeks.
Related Articles
Who Should Not Take Probiotics?