Quest protein cookies are a go-to choice for many people who are looking to quickly increase the protein in their diet but are Quest cookies keto friendly?
Are Quest Cookies Keto?
Yes
Due to their low number of total net carbs, Quest Protein Cookies are keto friendly when consumed in moderation.
Why Are Quest Cookies Keto Friendly?
Low in Carbs
In order for your body to successfully remain in ketosis, it's best to limit your carb intake to around 20-30 grams per day.
With only around 5-10 grams of net carbs per cookie, Quest Cookies can fit easily into a keto diet without using up most of your daily carb budget.
While these cookies can be a great way to curb your sweet tooth, it's important to consume in moderation so you don't risk kicking your body out of ketosis.
High in Protein
Quest is known for providing protein-packed products, which is why there's a whopping 15 grams of protein per serving.
In a typical keto lifestyle, 20-25% of your diet should be contributed towards protein, making these cookies a quick way to get your daily fill.
Low in Sugars
On a keto diet, it's important to avoid consuming high amounts of sugar because it could cause a spike in your blood pressure which can kick you out of ketosis.
Quest Cookies contain around 1 gram of total sugars, making them a great option for a keto friendly sweet treat.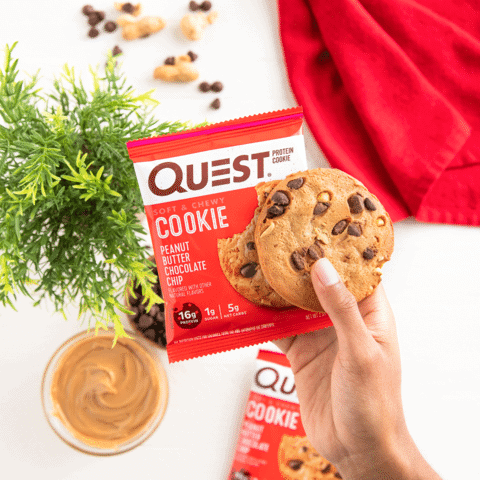 Nutritional Info
Although there are 5 different types of cookies to choose from, we've provided the nutritional information for one of Quest's most popular protein cookies, Chocolate Chip.
Serving size: 1 cookie (59g)
| | |
| --- | --- |
| Net Carbs | 10 grams |
| Fat | 17 grams |
| Protein | 15 grams |
| Total Carbs | 19 grams |
| Fiber | 9 grams |
| Calories | 250 calories |
| Sugars | 1 gram |
The Bottom Line
Overall, Quest Cookies are a delicious way to get your daily amount of protein without taking up too much of your daily limit of net carbs.
Quest Cookies typically contain around 5-10 grams of net carbs with a high amount of protein and a low amount of sugars.
Although this snack is keto friendly, it's important to eat Quest Cookies in moderation, as the carb content can add up fast.
In order to achieve a healthy weight loss on keto, it's important to achieve the ideal macronutrient ratio of 70% fat, 20-25% protein, and 5-10% carbs per day.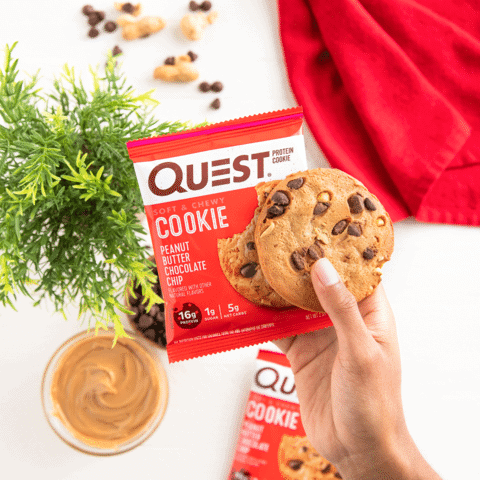 Related Keto Articles
Is Imitation Crab Keto Friendly?
Is Whipped Cream Keto Friendly?